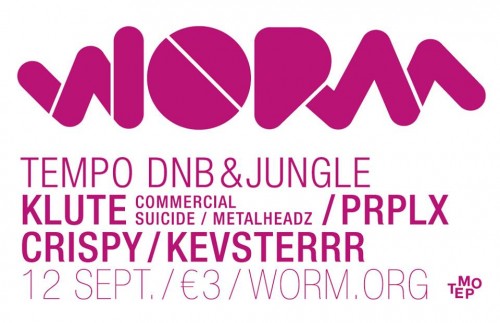 Klute (Commercial Suicide / Metalheadz)
A rebel with a cause, Klute is a truly unique artist and continues to be a vital, creative force in drum & bass after over 15 years in the scene. His productions mix strong melodies with tough beats, bearing the influence of Klute's roots in punk and techno, and his live-wire DJ sets are known for their energy and intensity. His sixth full-length artist "Music for prophet" was released in 2010, demonstrating once again his diversity and broad appeal with a worldwide tour taking him everywhere from Mexico to Mumbai. In the last 3 years, Klute has focused on his label Commercial Suicide with releases from the likes of Nymfo, Mindscape, Amit, Dom & Roland, & of course Klute himself. Moving into 2013, there will be the seventh Klute studio LP, 'The Draft', and more genuinely important music from Commercial Suicide.
Commercial Suicide has commenced an all new residency in 2013 at London super club Fabric and Klute remains one of the core residents of legendary club night A Bunch Of Cuts alongside Calibre, Marcus Intalex, dBridge & Doc Scott. Tours of the USA, Hong Kong, New Zealand, and Australia plus numerous gigs at clubs and festivals across Europe, cement Klute firmly and confidently high on the global Drum and Bass scenes essential DJ's to catch. Klute Mix
PRPLX (Tempo Records) After their first entitled album: Fabric Of Space which got huge support from all the underground DNB dj's (including Goldie) it's time to unleash PRPLX first 12″ single on Tempo Records this year. PRPLX Soundcloud
Crispy (Blendits)
No old music, no new music but good music. That's what DJ Crispy is about. As founder of Blendits and Harmonics nights, he is serving Rotterdam nightlife with a fresh dose of the DNB sound since 2010.
Playing venues such Melkweg, De Effenaar and Paard van Troje, alongside DJ's such as Pendulum, Goldie and Bukem. Blendits Soundcloud
kevSteRRR (Tempo)
Hailing from Hengelo (Eastern part of The Netherlands) and nowadays a Rotterdam based Drum and Bass dj, tonight he'll show you his dj skills and Drum and Bass diversity. kevsteRRR Soundcloud
Dirty Brown Visuals
Room 2 is hosted by Double Cross with STRAY (Exit Records), Ruwe Data, Easy B, CO2RO and many others.
Doors & Tickets & Address & Map
WORM presale Euro 3,00 Please note: due to the Witte De With Festival early arrival is adviced!
Open 23.00 till 06.00
Address: Boomgaardsstraat 71, 3012 XA Rotterdam, NL.
WORM Website
Tempo Facebook Events
Tempo Facebook Social
Fusion Twitter