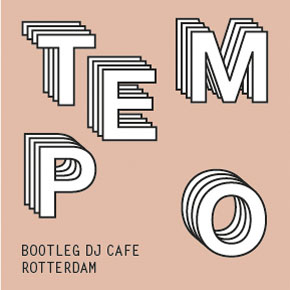 Tempo presents: "Fabric Of Space Releaseparty"
To celebrate PRPLX's album "Fabric Of Space" wich just came out on Tempo Records we have carefully selected some of Hollands finest Drum and Bass dj's for this special Tempo Records releaseparty!
Lineup:
Pamp (Major League) one of Major League's resident dj's, Pamb will bring his party dancefloor rollers.
Roly (Planet Jungle, Zinloos) Al meer dan 9 jaar is Roly de drijvende kracht achter de Planet Jungle avonden, en is wellom bekend om zijn snelle en strakke diverse mixen. Zijn stijl is moeilijk te beschrijven omdat bijna alle gerne's drum 'n bass wel aan bod komen in een opbouwende opzwepende dj-set met een flinke dosis jungle. Op dit moment heeft hij platen van onder andere Shy FX, Lutin, Dillinja, High Contrast, Chase & Status, Serial Killaz en Hamilton in zijn platentas gepakt. En met nieuwe producties in het vooruitzicht, lijkt het weer een druk jaar te worden voor Roly.
PRPLX (Tempo Records), prepare for some deep quality Drum and Bass cuts and of course some of their latest released album tracks and maybe some unreleased new material as well…
Crispy (Blendits, Harmonix) Crispy (Blendits, Harmonics) is Blendits resident drum and bass dj. Influenced by the vibes of St. Germain and J Dilla his sets contain elements of funk, jazz and soul, sometimes with a techy feel to it. Tonight he will play a solo set so expect some deep beats! Checkout their new concept called Harmonics at Bird Rotterdam.
Watcher (Jungletrain.net) known for playing the deeper side of the Drum and Bass spectre…
Kevsterrr Rotterdam finest eclectic dj and for tonight he will drop a special Drum and Bass/ Jungle selection.
Noble (Jungletrain "Nostalgia Sessions"), Rotterdam DNB DJ Noble normally plays all around Holland and has his own weekly specialist DNB online radio show on Jungletrain and steady building his reputation with strictly liquid vibes with his "Nostalgia Sessions". For tonight he will drop his best Jungle records tightly mixed and full ON!!
General info
Date: Saturday 15-12-2012
Showtime: 22.00-06.00
Venue: Bootlegdjcafe Mauritsweg 33, Rotterdam.
More info: Tempo Website
Tempo events concept by Fusion
Social
Share: Facebook Tempo Event
Follow: Facebook | Twitter
Demo: Soundcloud Dropbox