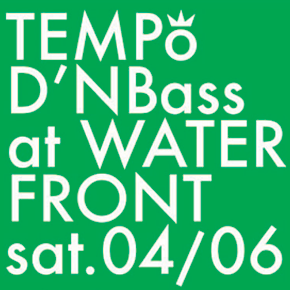 Op 4 juni zal dj Fusion in de heropende en vernieuwde Waterfront het eerste 'grote' Tempo drum and bass feest organiseren. Tempo heeft niemand minder dan een van drum and bass's bekendste ambassadeurs genaamd Aphrodite uitgenodigd! Dit Engelse zwaargewicht ook beter bekend als 'King Of The Beats' is ruim 20 jaar actief in de dnb scene en garandeert een super feest!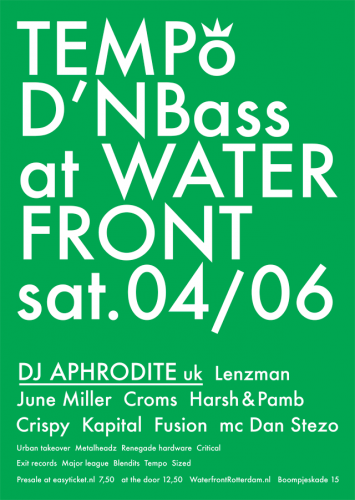 Na commerciële successen als 'Style from the darkside', 'King of the beats' produceerde Aphrodite vele top remixen voor o.a. Blackstreet's 'No Diggety', Luniz 'I Got 5 On It' en Tribe Called Quest's '1nce Again'.
Aphrodite's energieke dj sets zijn legendarisch en een van zijn hoogtepunten was op het Glastonbury festival in Schotland. "We were playing the dance tent, which had about 30,000 people in and around it," he begins. "Over on the mainstage, David Bowie was playing for about 80,000 people. And I put on one of my tracks, and the whole dance tent just roared, all 30,000 people. David Bowie heard it and just stopped his set and went, 'What the hell is going on over there?!"
Tevens wordt Aphrodite deze avond vergezeld door de top uit de Nederlandse drum and bass scene zoals: Lenzman, die recentelijk zijn soulvolle tracks tekende bij Goldie's Metalheadz label. Daarnaast de uit Utrecht afkomstige beat scientists June Miller die al tracks uitbrachten op het bekende Engelse Renegade Hardware label. Maar ook biedt Tempo een platform voor een relatief nieuwe en talentvolle Rotterdamse producer Croms. Natuurlijk mogen Harsh en Pamb van de Major League feesten ook niet ontbreken, zij draaien een exclusieve back 2 back party set. Verder zal Crispy van de Blendits crew zijn hotte liquid tracks draaien en zal Kapital het geheel opwarmen met zijn diepe warme sounds. En last but not least zal dj Fusion het 12.000 watt soundsystem om een uurtje of 6 uit haar lijden verlossen..
MC Dan Stezo (Sized) en bekend van oa 'The Fringe' zal de avond aan elkaar toasten!
Limited pre-sale tickets available!! €7,50 (ex fee) via Easyticket (search for Tempo) Doors: €12,50.
[youtube GlJPS7xBvY0]
Artiesten info:
DJ Aphrodite Facebook
Lenzman Facebook
June Miller Facebook
Croms Facebook
Harsh & Pamb Website
Crispy Facebook
Kapital Soundcloud
Dan Stezo Website
DJ Fusion Website
DJ Fusion Twitter
WaterfrontRotterdam Website
Tempo Website