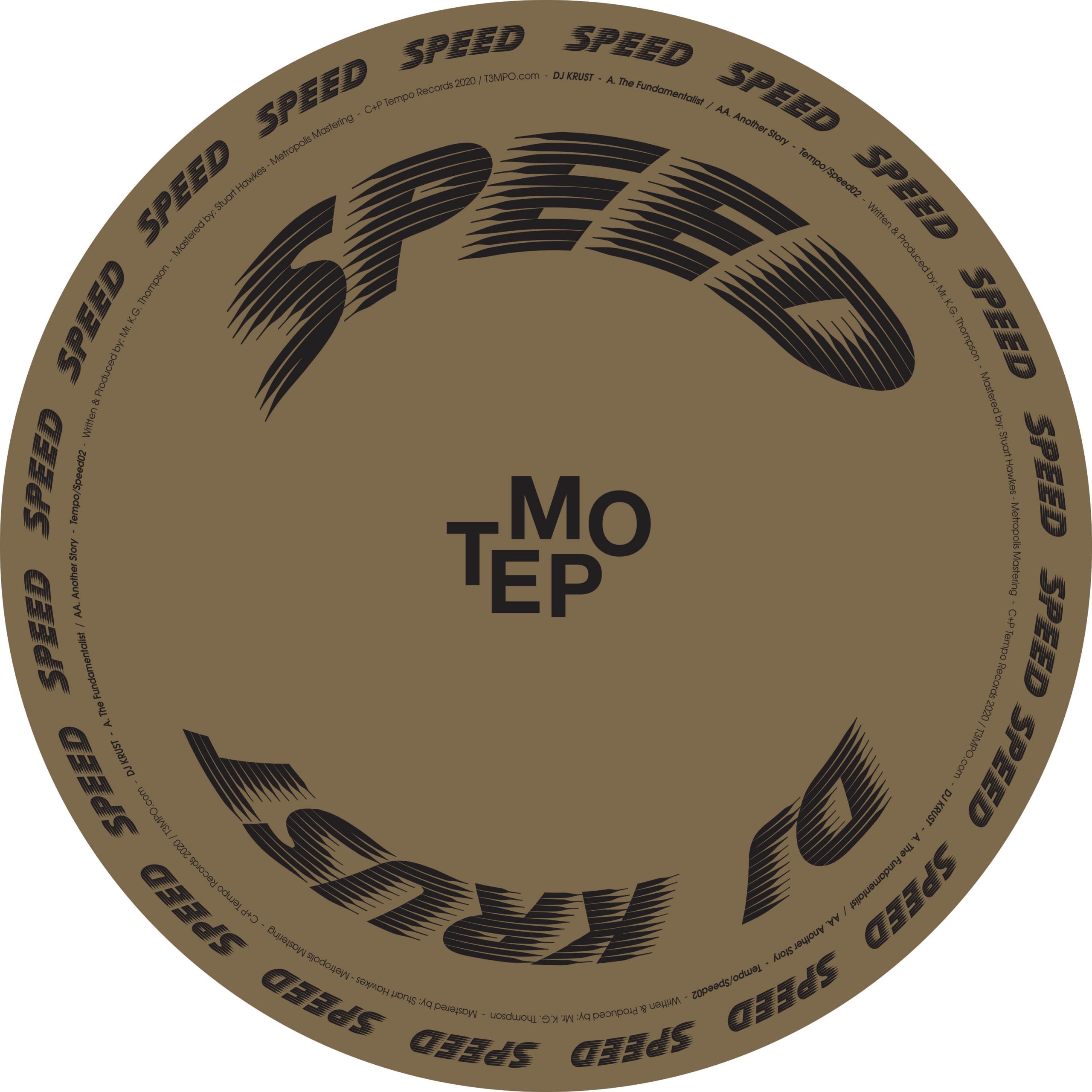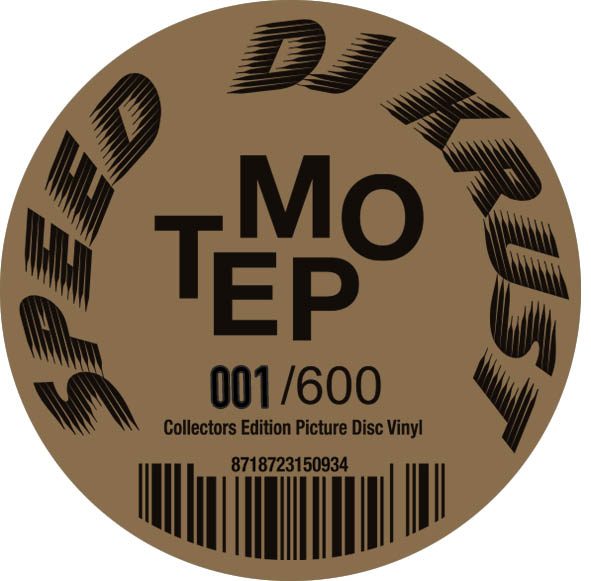 Releaseinfo
Artist: DJ Krust
Title: The Fundamentalist
Label: SPEED/Tempo Records
Catnumber: Speed02
Formats: 180 gramm 12″ Limited 600x handnumbered Picture Disc Vinyl & Digital & Streaming.
EAN/Barcode: 8718723150934 ISRC: NLUS42000003 & NLUS42000004
Releasedate vinyl: 13-07-2020
Releasedate digital & streaming: 31-07-2020
Mastering: Stuart Hawkes @ Metropolis Mastering
Distributed by: Clone Distribution & Clone Digital
Tracklisting:
A. The Fundamentalist
AA. Another Story
Releaseinfotext:
Tempo Records present SPEED, a new Tempo Records sublabel & project released on a limited collectors handnumbered 180gram coloured picture disc vinyl with original & legendary producers who helped shaping the Drum & Bass scene. This second release on Tempo Records' legends Picture Disc series: SPEED is by the Bristolian living legendary Jungle originator, inspirator and experimentalist: DJ KRUST.
In DJ Krust's own words: "It became time to push again. Sitting in a dark room looking at my wall of power, a lifetime spent traveling the world was reimagined in front of me. Where had i been?
Making art had become a journey inward towards or to somewhere unknown un-lived. Here i was looking for a new opening when out of the blue and blackness i could feel it.
I stopped looking for inspiration so digging in the metal creates had its own angle, over time the roots of this adventure will be heard in a new way. That's when i noticed it, like a bright, out of the space mix between thought and the unknown.
It was clear now what was happening a Fundamentalist with Another Story"
Collectors check: This release comes as a strictly limited handnumbered 180gram Golden Picture Disc Vinyl pressing with a high quality polybag sleeve (including a handnumbered qty stamped golden sticker on polybag corner) + all tracks mastered by Stuart Hawkes of Metropolis Mastering London. First come, first served! Note: The sound quality on a picture disc may be less good as on a regular standard vinyl as this is a special golden vinyl pressing! For the full sound experience, you may buy a full digital wav or flac quality download.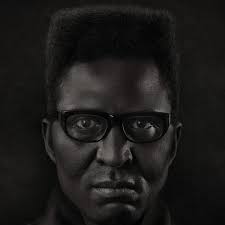 Artist info:
DJ Krust Wikipedia
Listen & Share:

Early DJ Support & Feedback
Sir Goldie (Metalheadz) "yes, please send the DJ Krust Speed vinyl, thanks"
Randall aka "The R" (Mac II, Reinforced) "supporting"!
Tom Ravenscroft (BBC Radio) "Another Story will be supported on my radio show" –> LISTEN HERE!
J:Kenzo (Rinse FM) "both sides are dope, will support "Another Story" in my Rinse FM show on July 2nd!!!!" –> LISTEN HERE AT 1:55:49!
Special Request (R&S) "Krust thing is sooooo good!"
Pendulum (RAM, 31 Recordings) "very inspirational, yep, i played them on my Twitch stream a couple of times"
Foul Play (Moving Shadow) "Thanks for sending, absolutely classic Krust, The Fundamentalist is the one for me. Love the way he just layers more and more elements, just feels cinematic. F••king love it 💙"
Blame (Moving Shadow, 720Records) "👊🏻💥💥"
Nastia DJ (Ukrain) "Thank you"
Laurent Garnier (Fcom, What's Next?!) "GREAT release ….Thanks a lot mister"
Doc Scott (31 Records) "thanks, will support in my live stream"
DJ Loxy (Metalheadz, Architex) "Cheers man, nice 1, i like both tracks nice vibes"
LTJ Bukem "Thanks for sending."
Grooverider (Prototype rec) "Cheers"
Fabio (Creative Source, Swerve) "got them, thanks"
DJ SS (Formation Rec) "Big Up"
Zero T (Dispatch) "YES"
DJ Tendai (Swerve) "Great to see a return of Krust and a much needed return to longer tunes again!!! Big up"
DJ Ron (London Some 'Ting Records) "Nice! Krust on fire again!"
Bryan G (V Recordings) "thanks"
Ray Keith (Origin FM / Dread Recordings) "will support club and radio"
Sinistarr (Metalheadz) "yesss Krust!!"
DJ Flight (Metalheadz) "Thank you, looking forward to checking"
A Sides (Eastside) "Another Story, for me. Welcome back Krust!!"
DJ Lee (Metalheadz, 31Records) "I really liked both of these tunes but Another story is the one, Thank you"
Om Unit (Metalheadz) "Really serious"
DJ Trace (DSCI4) "sounds good"
DJ Ink (Metalheadz, Architex) "downloading, thanks very much"
Gremlinz (Metalheadz, Tempo Rec) "Thanks"
DJ Stretch (AKO Beatz, Reinforced) "Big release sir"
Mark System (Exit Records) "Good stuff, The Fundamentalist is my fave"
Deep Blue (Moving Shadow) "nice one, two thumps up"
Phil Tangent (Lunar Rec) "nice one, thanks"
John B (Metalheadz, BETA Rec) "thanks man, downloading now. jb"
Amit (Metalheadz, Commercial Suicide) "big up"!
DJ Clarky (Metalheadz) "Lovelly stuff"
DJ Addiction (Creative Source, Defunked) "What can I say, krust always challenges the dnb scene and at the same time breaks the mould, this release is an awesome body of work that makes you sit and listen from start to finish."
Drumsound & Simon Bassline Smith (Technique Recordings) "Beat Star"!
DJ Addiction (Creative Source, Defunked) "yes, love them, Krust always kills it for me"
Motive One / Primary Motive (certificate 18 / creative source) " I've heard it and it's rather good!! Proper Krust."
Dave Owen (Dispatch, Goodlooking Rec) "WHAAAAAT!!!!"
DJ Furniss (Prototype Rec) "nice one, all good bro"
DJinn (Foundation X, Repertoire, Rupture, AKO) "thank you, will DL, cheers for the send"
Alleycat (Kokeshi, UK) "F*ck Yeah! I love both tunes. Will play both when I get the chance. I think the AA is my fave is its just a tidy roller that builds and builds . Can't wait to mix it. J'adore!"
Chris Su (DSCI4) 'Nice One'
Justice (Moving Shadow, Modern Urban Jazz) '5*****'
DJ Stompz (Prototype Rec) "Yea, bro, big uppp"
DJ Andy (V Rec, Brasil) "Thanks my friend, I will download and full support"
Danny Wheeler (Planet V) "we can see the angles"
Whiley / Ben Hindle (DJ Mag UK, 28/M/London, GSOH) "i'll play on radio this weekend and support via DJ Mag"
Sicknote "Proper sick this one mate"
Chris Dexta (Diffrent Music) "Yeah, this is the future!! KRUST has always been 10 steps ahead.. I've seen the negative comments online already, but seriously object!! Big up !!!"
Akuratyde (Blu Mar Ten) "Something fresh and different!"
Mob Tactics (RAM Records) "Yes, Krust!"
Monita (Skeleton rec) "Thank you Frodo. This is BIG!"
Benny Collab (Liquid Lab, Co-Lab) "Will be supporting of course"
Brian (Translation Recordings, USA) " This SPEED series is VIBES"
Slider (Dust Audio) "Classic Krust vibes, he knows how to build a tune. Love the juxtaposition on Fundamentalist, the raw stabs and bass against the sci-fi keys, Another Story is something else, slighly uneasy, slighly trippy, but definitively KRUST!" 5/5
Jim (Thrashpilot, UK) "Without a doubt, the best thing you've ever sent me. Amazing return to form. Bigup Krust!"
Jenny (Drum & Basics) "yes Krust! beautiful!"
Yorobi (NL) "The Fundamentalist is amazing! love the syncopation of the different drum parts. classic timeless quality from Krust <3"
DJ Promenade (BNC Express , CZECH REP) "Amazing Sound. Thank you"
Skalator Music (Portugal) "Krust always pushing the boundaries forward"
Kiat (Singapore) "WOAH KRUST!!!!"
DJ Kalm (UK) "Sick beats, as ever, legendary vibes!"
DJ Fonik "Really digging on the rough but minimal undercut of The Fundamentalist. So many of the right things in one banger."
Dr Woe Dr Woe (Insomnius Music) "Nice to here some fresh tunes by the master himself. Really digging "The Fundamentalist" and will play this in my next online mix. Another story is very interesting, it's cool to hear something different…Looking forward to buy the record! Cheers!"
New Forms – "Love Krust good to see he is back, nice release for Tempo. Love both tracks, typical Krust taking us on a bleak journey but there is always glimmers of hope sprinkled to take us somewhere cinematic."
Todd Emplate – "YES! Krust is a true legend, and these two tunes show exactly why…lovin' 'em a mega-ton and look forward to playin' 'em ASAP! Expect full support across radio, podcasts, guest mixes and live sets. Cheers!"
…
Radio & Podcast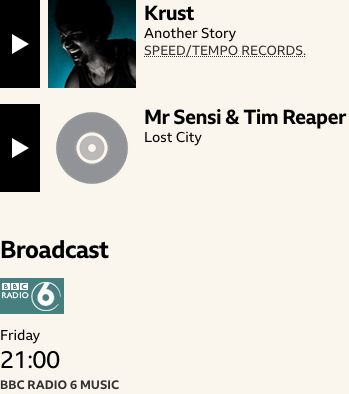 Tom Ravens Croft BBC Radio 6 Show!

J:Kenzo – Rinse FM Show 02-07-2020 "DJ Krust – Another Story – Speed02 at 1:55:49"
Ray Keith (Origin FM / Dread Recordings) "will support club and radio"
OneDek (Origin UK) "W O W"
Jossy x Mitsu (Rinse FM) "Banging! Will be playing on rinse later"
Overfiend (Bassdrive) "Good"
Jay Stunnah (Bassdrive) "Badmon release!"
Ross Allen (Meltdown on Mi Soul Show /A & R of Island Records) "Always fascinating… Always making interesting music. These are no exception. Quality sonic future ness. Very good"
Whiley / Ben Hindle (DJ Mag UK, 28/M/London, GSOH) "i'll play on radio this weekend and support via DJ Mag"
Chris Muniz (Insomniac / Bassrush) "The legend returns!"
Toby (Ego FM, Germany) "epic and atmospheric tune, handcrafted in typical Dj Krust trademark style"
Michal – Lixx (Signaii FM) "The Fundementalist is proper serious tune!"
Francesco (Delta9 Recordings / Podcast) "Krust you are the don!"
S Man (Unity Radio) "Deep vibes from Krust!!"
Asine (Space Invader Radio) "Big tunes from K! Musical soundscape."
Josh/Rollaj (Kane FM) "nice from krust"
New Forms (UK) "Love Krust good to see he is back, nice release for Tempo. Love both tracks, typical Krust taking us on a bleak journey but there is always glimmers of hope sprinkled to take us somewhere cinematic."
Darren (Daddystreets Radio Show (Code South FM, USA) "Straight fire and head nodding business"
Harper CZworka Funkadelia / Basstion, Poland) "Yess, master at work. Wicked music from Krust, will spin it. Big up"
Al-John (Hyphen / Bush Radio Cape Town South Africa) "What a legend!"
Todd Emplate – "YES! Krust is a true legend, and these two tunes show exactly why…lovin' 'em a mega-ton and look forward to playin' 'em ASAP! Expect full support across radio, podcasts, guest mixes and live sets. Cheers!"
…
Premier

Soundcloud link!
Data Transmission Review
…
Reviews Blogs & Magazines :
Shelley Dodds (Data Transmissions): https://datatransmission.co/dt-dnb/dj-krust-drops-new-music-on-speed/
Ben Hindle / Whiley (DJ Mag UK, 28/M/London, GSOH) "i'll play on radio this weekend and support via DJ Mag"
Lyde (Headliner Magazine, Germany) "Wicked"
IRT mag "Thank you! Coded Language turns 20 too right?"
…
Interviews & Mixes:
DNB Universe confirmed.
Two Hungry Ghost confirmed.
…
Buy Vinyl (releasedate: 13-07-2020)
Tempo Records Shop NL | Bandcamp | Clone NL | All City Records Dublin Ireland | Amoeba USA | Bleep UK | Boomkat UK | Bounce Audio AUS | Chez Emile FR | Coldcuts UK | Decks DE | Deejay DE | Discogs Worldwide | Distortion NL | Doctor Vinyl BE | Eastern Block Records UK | Fenders DE | Grind Records, JPN | Hardwax DE | HHV DE | Idle Hands Records UK | Inbound Records AUS | Intense Records UK | Jet Set JP | Juno Records UK | Lobster Records UK | Moove Records Shop JPN | Naminohana Records JPN | Play De Record CAN | Redeye UK | Roughtrade UK | Sisterray UK | Syncrophone FR | Technique JP | Triple Vision NL | Underground Gallery JP | Unearthed Sounds UK | …
Buy Digital (expected releasedate: 31-07-2020)
…
Stream (expected releasedate: 31-07-2020)
Catalogue:
Tempo Records Digital Catalogue
(c) + (p) Tempo Records 2020