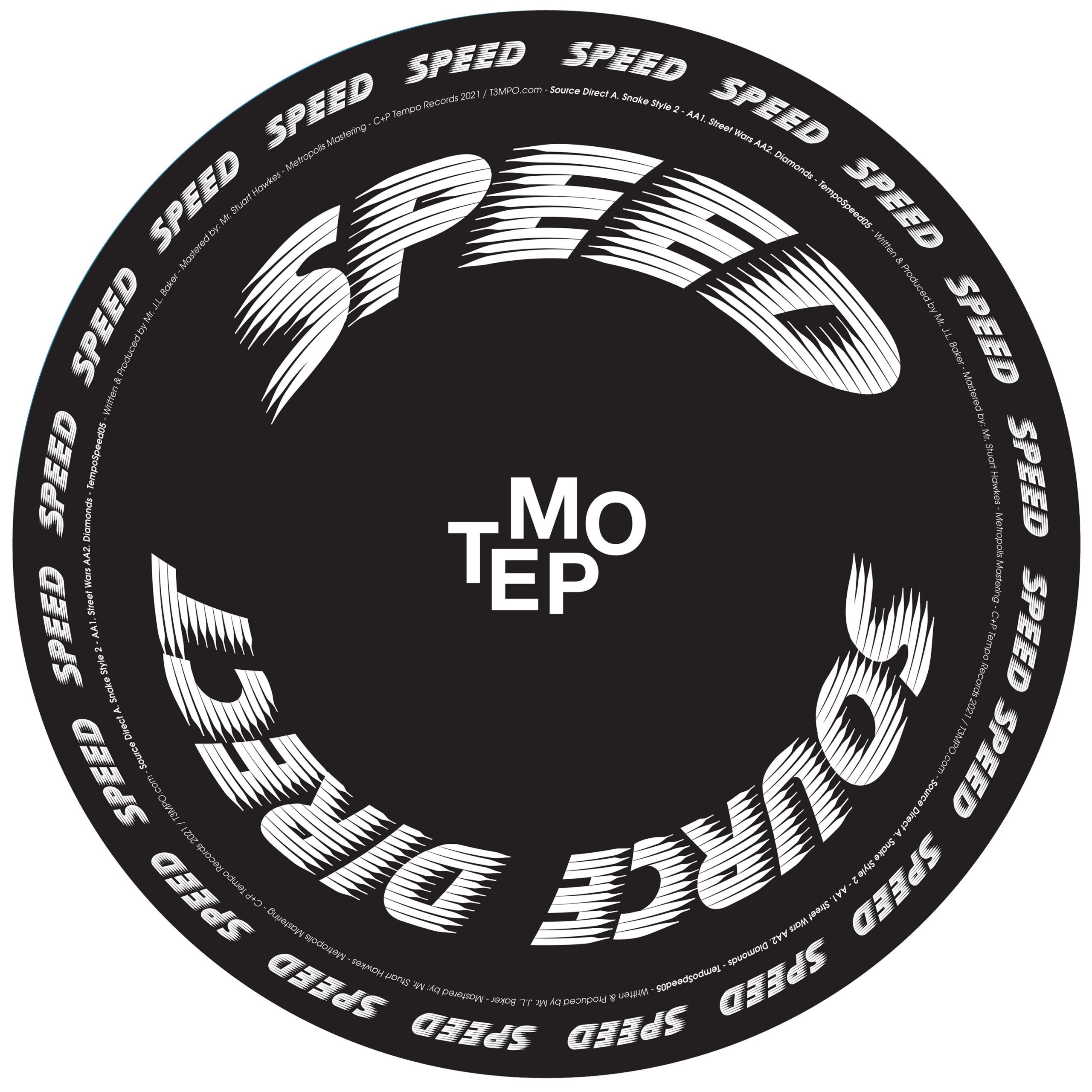 Releaseinfo
Artist: Source Direct
Title: Snake Style 2
Label: SPEED/Tempo Records
Catnumber: TempoSpeed05
Formats: 180 gramm 12″ Limited 500x handnumbered Picture Disc Vinyl & Digital & Streaming.
EAN/Barcode: 8718723176637 ISRC: NLUS42000019 / NLUS42000020 / NLUS42000021
Releasedate vinyl: 06-09-2021 (huge delays at the pressingplant due to covid-19, confirmed shippingdate will be announced soon)!
Releasedate digital & streaming: 24-09-2021
Mastering: Stuart Hawkes @ Metropolis Mastering
Distributed by: Clone Distribution & Clone Digital
Tracklisting:
A. Snake Style 2
tba
AA1. Street Wars
tba
AA2. Diamonds
tba
Bandcamp:

Releaseinfotext:
Source Direct second release on Tempo's SPEED series from the living legendary 'call & response' originator: Source Direct. On this release you'll find three new Source Direct tracks that never got released on vinyl before. Material with 'that' distinct trademark SD sound; superbly engineered breakbeats, the relentless sonic, rhythmic, tempo experimentation and haunting 'Blade' film-scape 'dark sounds from beyond' atmospheres accompanied with deep sub-aquatic resonant bass lines. If there's one production technique Source Direct applied it's the 'call & response' technique (the latter is also the track title of SD's contribution to 1998's Stephen Norrington's 'Blade' cult movie which starred Wesley Snipes).
Source Direct, along with Goldie, Photek, Peshay and Wax Doctor, one of a handful of stand-out artists who were signed to major labels in the wake of Jungle's/Drum and Bass' popular explosion.
Around 1995 Source Direct would have been primarily known as 'intelligent' or 'Speed' artists (after LTJ Bukem's and Fabio's legendary SPEED midweek club, held at the Mars Bar in central London). Speed, and then Metalheadz at the Blue Note shortly afterwards, helped pave the way for dj's & producers like Source Direct to experiment with deeper material.
Vinyl collectors please check: This release comes as a strictly limited copies handnumbered 180gram Picture Disc Vinyl pressing with a high quality polybag sleeve (including a handnumbered qty sticker on polybag corner) + all tracks mastered by Stuart Hawkes of Metropolis Mastering London. First come, first served, no picture disc repress!
FIRST 015-115 NUMBERED PICTURE DISC VINYL EDITIONS WILL BE SEND VIA T3MPO.COM & BANDCAMP ONLY!
Please Note:
The sound quality on a picture disc might be less good as on a regular standard vinyl but still sounds great! For the full sound experience, you may buy a full digital wav or flac quality download.
Releasedate may change at any given moment due to large delays at the pressingplant due to COVID-19. Orders placed with released Tempo records will be send once this release is in stock and shipped combined to save shippingcost. UK orders could have a small delay due to Brexit.
Artist Interview:
For an 'in depth' Source Direct special check here: Fact's Source Direct special and to check legendary SD footage/documentation from VPRO's LoLaDaMusica check here: Source Direct LoLaDaMusica Special
Early DJ Support & Feedback
Martyn (3024) "Vet :-)"
Pugilist (Whities, 3024, Modern Hypnosis, Trusik) "Amazing, thanks so much"
Foul Play (Moving Shadow) "Maaaan, I mean c'mon, now you're just spoiling us, amazing EP all round, full support from me, not long now until we can start playing these in their proper destination. Respect for doing what you're doing."
DJ Stretch (AKO, Reinforced) "Respect Brother"
Etch (Ilian Tape, TempOzone, Over/Shadow) "huuuuuuge record"
Agzilla (Metalheadz) "Thank you for these, Killer tracks !!!"
Monita (Skeleton Recordings) "Thank you man"
Dan Slider (DustAudio, UK) "Diamonds is cutting dark. Hypnotic groove and horror keys. Builder of a tune"
Ben Kei "Nice one"
More T.B.A.
Radio & Podcast & Mixes
T.B.A.
Magazine's & Blogs
Buy Vinyl (releasedate: 06-09-2021)
Tempo Records Shop NL | Bandcamp | Clone NL | All City Records Dublin Ireland | Amoeba USA | Bleep UK | Boomkat UK | Bounce Audio AUS | Chez Emile FR | Coldcuts UK | Decks DE | Deejay DE | Discogs Worldwide | Distortion NL | Doctor Vinyl BE | Eastern Block Records UK | Fenders DE | Grind Records, JPN | Hardwax DE | HHV DE | Idle Hands Records UK | Inbound Records AUS | Intense Records UK | Jet Set JP | Juno Records UK | Lobster Records UK | Moove Records Shop JPN | Naminohana Records JPN | Play De Record CAN | Redeye UK | Roughtrade UK | Sisterray UK | Syncrophone FR | Technique JP | Triple Vision NL | Underground Gallery JP | Unearthed Sounds UK | …
Buy Digital (releasedate: 24-09-2021)
…
Stream (releasedate: 24-09-2021)
Catalogue:
Tempo Records Digital Catalogue
(c) + (p) Tempo Records 2021