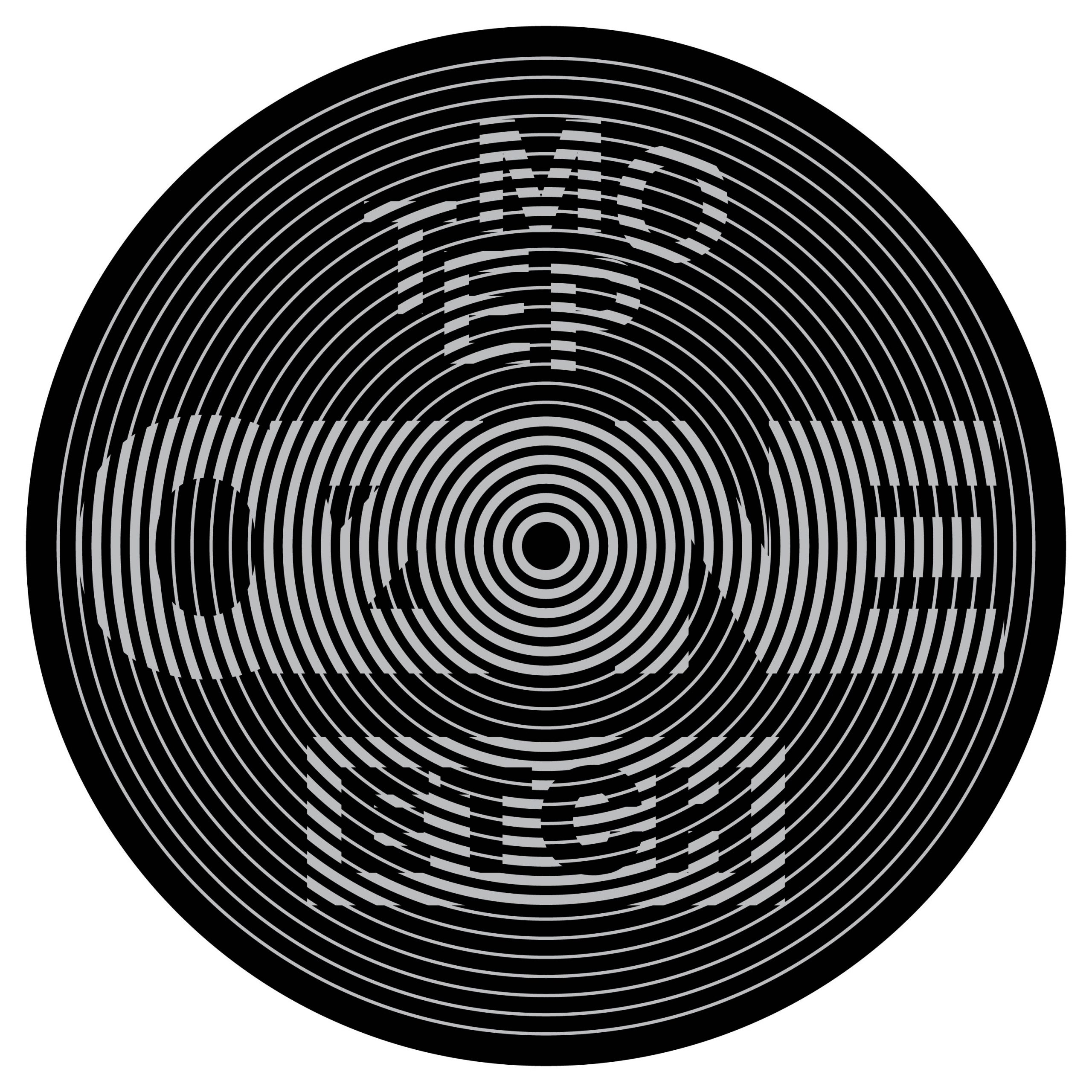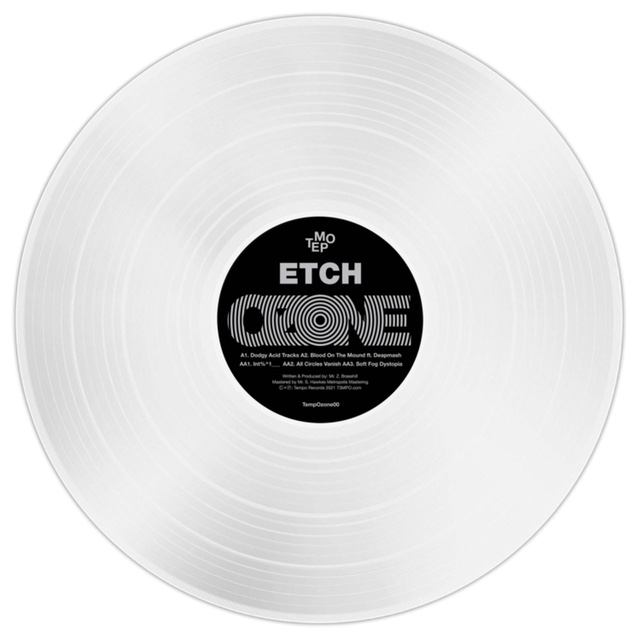 Releaseinfo
Artist: ETCH
Title: Dodgy Acid Trax
Label: Ozone/Tempo Records
Catnumber: TempOzone
Formats: Limited Crystal Clear Vinyl 12″ & Digital & Streaming.
EAN/Barcode: 8718723171861 ISRC: NLUS42000010 / NLUS42000011 / NLUS42000012 / NLUS42000013 / NLUS42000014 / NLUS42000015
Releasedate vinyl: 20-09-2021 (huge delays at the pressingplant still due to covid-19, confirmed shippingdate t.b.c.)!
Releasedate digital & streaming: 24-09-2021
Mastering: Stuart Hawkes @ Metropolis Mastering
Distributed by: Clone Distribution & Clone Digital
Tracklisting:
A1. Dodgy Acid Trax

A2. Blood On The Mound ft. Deapmash

AA1. Int%^1___

AA2. All Circles Vanish

AA3. Soft Fog Dystopia

Bandcamp:

Releaseinfotext:
New Tempo Records sublabel; TempOzone releases Brighton based producer Etch; who dives deep into the underworld of Breakbeat / Acid-Techno science with these five rugged 'n raw tracks. Etch is the most inventive break-experimentalist in operation right now. Cutting breaks is his modus operandi. This beautiful crafted crystal clear vinyl 12″ comes in a new designed Tempo Records high quality "Kraft" outer sleeve and a beautiful coloured innersleeve. All tracks mastered by Stuart Hawkes of Metropolis Mastering, London.
Please Note:
Releasedate may change at any given moment due to large delays at the pressingplants still due to COVID-19. Orders placed with released Tempo Records will be send once this release is in stock and shipped combined to save shippingcost. UK orders could still have a small delay due to Brexit.
Early DJ Support & Feedback
Sully (Uncertain Hour) "Loving the Etch ep. I got this one straight from the Etch himself. Another killer record"
Stenny (Ilian Tape) "got these tracks from Etch, supporting"
2 Bad Mice (Over/Shadow) "🔥 Fire!"
Gremlinz (Metalheadz) "Dope release"
Hyroglifics aka The Executioner (Metalheadz) "oooof"
Fanu (Metalheadz) "Etch = all killers, no fillers! Will be playing All Circles Vanish on my Breaks & Beats Podcast soon"
Doc scott 31 Recordings, UK) "Thank you, will support"
SB81 (Metalheadz) "Love the dreamyness of Soft Fog Dystopia. It's a really nice EP this! Thanks!"
Drumsound & Bassline Smith (Prototype Recordings) "Thanks, i'll support"
Earl Grey "yeah these are hench as fook, Blood On The Mound and All Circles Vanish especially. Nice one !"
Todd Emplate) (Cleveland, USA) "Nice! Excellence here, as always, from the mighty Tempo Records, with the talented Etch comin' with a top notch release for TempOzone's debut….big upz!"
Stanislav (Radio 1 Prague, Czech Republic) "Little drops of nostalgia in a brand new context. Radio 1 Prague airplay support"
Chris Su (DSCI4) "thanks, i'll support"
Yorobi "Soft Fog is a lovely tune and the best one out of the bunch!"
Doctor Jeep (USA) "these are all veryyyyyy sick, especially into the A1 track Dody Acid Trax"
DJ effect (Australia) "Amazing work, thanks legends!"
Brian (Translation Recordings, USA) "Tempo on top! Another killer release, love the slower tempos. Much love from DC 🙂
Jim (Thrashpilot) "Love Dodgy Acid Trax"
More T.B.A.
Radio & Podcast & Mixes
Stanislav (Radio 1 Prague, Czech Republic) "Little drops of nostalgia in a brand new context. Radio 1 Prague airplay support"
Andre (Bassdrive) "Dodgy Acid Trax is a bomb – love it!"
Simon S-MAN (Unity Radio) "Deeper Vibes"
Jay Stunnah (Bassdrive) "Badness"
More T.B.A.
Magazine's & Blogs
Naked Beatz Review
Henry (DNB Dojo) "Love the old school vibes :)"
Buy Vinyl (releasedate: 28-06-2021)
Tempo Records Shop NL | Bandcamp | Clone NL | All City Records Dublin Ireland | Amoeba USA | Bleep UK | Boomkat UK | Bounce Audio AUS | Chez Emile FR | Coldcuts UK | Decks DE | Deejay DE | Discogs Worldwide | Distortion NL | Doctor Vinyl BE | Eastern Block Records UK | Fenders DE | Grind Records, JPN | Hardwax DE | HHV DE | Idle Hands Records UK | Inbound Records AUS | Intense Records UK | Jet Set JP | Juno Records UK | Lobster Records UK | Moove Records Shop JPN | Naminohana Records JPN | Play De Record CAN | Redeye UK | Roughtrade UK | Sisterray UK | Syncrophone FR | Technique JP | Triple Vision NL | Underground Gallery JP | Unearthed Sounds UK | …
Buy Digital (releasedate: 16-07-2021)
…
Stream (releasedate: 16-07-2021)
Catalogue:
Tempo Records Digital Catalogue
(c) + (p) Tempo Records 2021