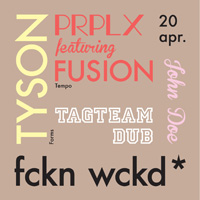 "We have Tempo Records head honcho DJ Fusion with his new PRPLX act, and long time bigshot DJ Tyson from Forms Arnhem!"
Dutch info:
FCKN WCKD* is na de klapper met DJ Lynx in februari terug.
Op 20 april hebben we twee van de beste en meest hardwerkende DJ's uit de Nederlandse drum & bass scene voor jullie!
DJ Fusion is een levende legende uit Rotterdam. Hij bracht maandelijks met Diffusion (r.i.p.) een vette sound door binnen- en buitenlands talent te verenigen. Wie nog nooit op zijn avonden in het Bootleg DJ cafe is geweest, moet zich eigenlijk schamen! Tegenwoordig gaat hij verder met het geven van grote en kleine feesten onder de nieuwe naam Tempo, daarnaast is hij samen met Deepflow het productie duo PRPLX; hun debut album zal binnenkort uitkomen op Tempo Records, het drum and bass label van Fusion.
Vanavond zal hij zijn beste beentje voor zetten, en brengt onder de naam PRPLX een vette drum and bass set met de allerlaatste producties. Wij zeggen: fris en rollend. Kom dit checken!!
DJ Tyson is een dj uit het kaliber 'gemene mixmaster'. Deze man is naar onze mening naast superbescheiden over zijn rol in de Nederlandse scene (al meer dan 10 jaar feesten organiseren in en rondom Arnhem), ook nog eens super super super ondergewaardeerd als DJ. Wij weten zeker dat met Tyson on the decks deze editie afgesloten wordt met mega knallers!
Je vertrouwde residents Tagteam Dub en John Doe maken het feest compleet en zullen samen de avond inluiden.
Zaal: Stage01
Damage: 6 euro's
VVK via 013 boxoffice en ticketservice.nl
Line-Up:
PRPLX featuring DJ Fusion (Tempo)
DJ Tyson (Forms)
Tagteam Dub
John Doe
FCKN WCKD Facebook Page
Facebook Event