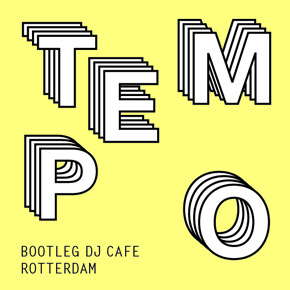 Lineup:
Switch (Shogun Audio / Soul:R), honoured to have Switch (Jesse Weijers) to play at Tempo again, his releases on Shogun Audio & Soul:R are breathtakin' expect some heavy upfront business!
Adi J (Cheeky Monday), Holland's prime female drum and bass dj doesn't need any introduction, having played on every major dutch dnb event (and occassionally for UK's Renegade Hardware events), tonnight she will bring the ruckus, bring it on!
Mobility (Bassdrive & Scientific Radio), hailing from Amsterdam (The Netherlands) this duo brings some warm liquid drum and bass to melt your brain. Both had guest dj sets at Bassdrive & (Mav's) Scientific Radio shows in the past. Expect some deep underwater sounds!
PRPLX (Tempo Records), finalizing their upcoming debut "Fabric Of Space" album on Tempo Records in May. PRPLX consists of Fusion & Deepflow, both producers have been active for many years in the dutch dnb scene. Expect some diverse rollers into the deep.
DJ Greg D (Break A Leg), debut performance for Tempo, his sets are full of energetic dancefloor beats 'n basslines.
SSS & Foxhound, it's like openening a 'kindersurprise' you never know what to expect, two hot upcoming & talented dnb dancefloor dj's & another debut performance for Tempo.
Fusion b2b Crispy, Crispy (unfortunately not shown on the physical flyer), this guy is currently on a roll with Blendits, check their upcoming event at Perron on April 14th with dBridge as a special guest (+ many others)! Crispy is Blended Bandits resident drum and bass dj. Influenced by the vibes of St. Germain and J Dilla his sets contain elements of funk, jazz and soul, sometimes with a techy feel to it. He values harmonic mixing and knows how to create a right atmosphere for the night. Tonight he will play a b2b set with Fusion, expect some deep beats!
Production & concept by Fusion.
General info:
Date: Saturday 21-04-2012
Showtime: 21.00-06.00
Venue: Mauritsweg 33, Rotterdam Bootlegdjcafe
Social:
Share Event: Facebook
Follow: Facebook | Twitter
Demo: Soundcloud Dropbox