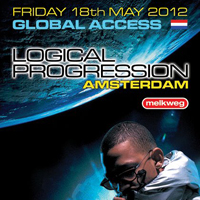 Line-up:
DJ's: LTJ Bukem | Fabio | Marky | E-Z Rollers | Dvirus & MSC MC's: Conrad | Moose | Stamina.
Drum 'n bass herovert momenteel in vogelvlucht alle dansvloeren. Eén van de grondleggers van deze dancestroming was in de jaren '90 de Brit LTJ Bukem en op zijn Logical Progression label brengt hij al 17 jaar fijne melodieuze drum 'n bass platen uit.
Veertien jaar lang was London de thuisbasis van Logical Progression. Ontstaan in 1995 als een podium voor de sound van Bukem en Good Looking is het uitgegroeid tot een ultieme hommage aan vervlogen jaren. Sinds 2010 is de Melkweg de vaste uitvalsbasis voor Logical Progression. Twee uitverkochte edities waren een feit met legendarische artiesten als Goldie, Grooverider, Fabio, Doc Scott en DJ Storm. 18 mei is de Melkweg weer klaar voor een 'trip down memorylane' waar artiesten als Marky. E-Z Rollers, Fabio en LTJ Bukem hun favoriete platen ten gehore brengen.
LTJ Bukem heeft geen introductie nodig, verwacht een strakke mix van zijn Goodlooking label catalogus aangevuld met de "vergeten" juweeltjes. Hij wordt uiteraard bijgestaan door zijn vaste MC Conrad.
Fabio is één van de residents en niet zonder reden. Begin jaren '90 waren Bukem en Fabio kompanen in Club Speed. Hij introduceerde vervolgens drum& bass op de nationale radio. Eerst op Kiss FM en later BBC Radio 1 alwaar hij nog wekelijks een show presenteert samen met Grooverider.
E-Z Rollers hebben ook een stempel op de drum& bass scene gedrukt. Als JMJ & Richie en Hyper On Experience brachten ze legendarische platen uit. Onder de naam E-Z Rollers zijn ze het bekendst geworden en hebben ze klassiekers als 'Walk this Land' en 'Tough at the Top' uitgebracht op Moving Shadow. Bukem breekt met een traditie. Alle dj's die op Logical Progression hebben gestaan waren begin jaren '90 actief.
Marky behoort tot de generatie die groot is geworden rond de eeuwwisseling. Afkomstig uit Sao Paulo heeft hij, mede dankzij zijn mix skills, zich ontwikkeld tot één van de bepalende artiesten in de scene. Hij bracht Braziliaanse invloeden in drum& bass. Met de track 'LK' in samenwerking met XRS en Stamina bereikte hij de top 20 in de UK. Hij draait tijdens Logical Progression de platen die hem hebben geïnspireerd.
Dvirus & MSC deze twee Nederlandse dj's hebben met hun Subtronics avonden reeds hun naam gevestigd binnen de Nederlandse Drum en Bass scene. Deze avond zullen ze back to back hun favoriete platen draaien.
Geen Logical Progression zonder MC's. Zo ook op 18 mei want dan zal het podium geheel in Old School stijl bevolkt worden door 3 MC's! En niet de minste. MC Conrad kennen we als de vaste side kick van Bukem, is Moose sinds jaar en dag de vaste MC van Metalheadz en is Stamina één van de muzikaalste MC's in de scene. Zij doen de dagen van weleer herleven!
18 mei wordt een unieke en legendarische dag. Voor de doorgewinterde drum&bass fans een niet te missen avond. En zoals Bukem zelf zegt: "The music is still very much alive. Seventeen years ago a lot of doubters said the music, the people, the soul of what we were all trying to create wouldn't last a year…it's all a matter of opinion".
Locatie: Poppodium Melkweg, Amsterdam
Datum: 18-05-2012
Zaal: The Max/ Klinch
Openingstijden: 22:00 uur
Toegangsprijs: € 22,50 (lidm niet verplicht)
Buy Tickets Here
Facebook Event Page