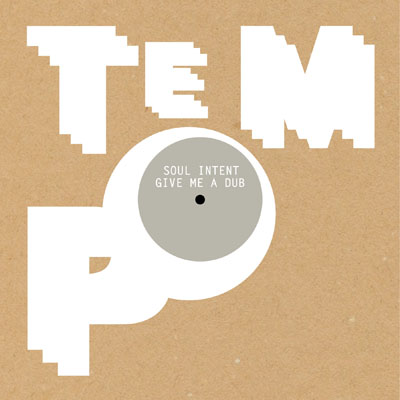 Release Info
Artist: Soul Intent
Title: Give Me A Dub
Label: Tempo Records
Catnumber: Tempo1208
EAN: 8718723061582
Releasedate vinyl: 21-03-2016
Releasedate digital: 25-04-2016
Mastering: Stuart Hawkes @ Metropolis Mastering
Distributed by: Clone Distribution
Formats: 140 gramm 12″ Clear Vinyl (including poster & download code voucher) & Digital & Streaming
Releaseinfotext:
Tempo Records is proud to release three brand new tracks by Soul Intent. These tracks highlite the current state of modern Jungle (& Drum and Bass). "Give Me A Dub" on the full A side is all about heavy Amen drums and phat basslines, one for the late night hours (or early mornings). "The Dread" uses smooth drums and slick heavy subbass-lines, it's a hazy, dreamy track but dark & menacing at the same time, a wicked tech roller that echoes deepness reminiscing of that golden Jungle era. "Heaven ft.E" is all about melancholy with it's "crying" emotional deep male "Heaven" vocal, together with E's live saxaphone contribution and cleverly chopped-up Apache drum programming, this track reminds us of those special Bluenote/Speed days back in 1995-1996. This release comes as a limited 140g clear vinyl pressing with full artwork sleeve + white glossy inner sleeve, including a mp3 download voucher + a free poster/inlay and all tracks mastered by Stuart Hawkes of Metropolis Mastering London. When buying this from T3MPO.com you get a free Tempo logo sticker (untill stock lasts).
12″ Including Inlay/Insert: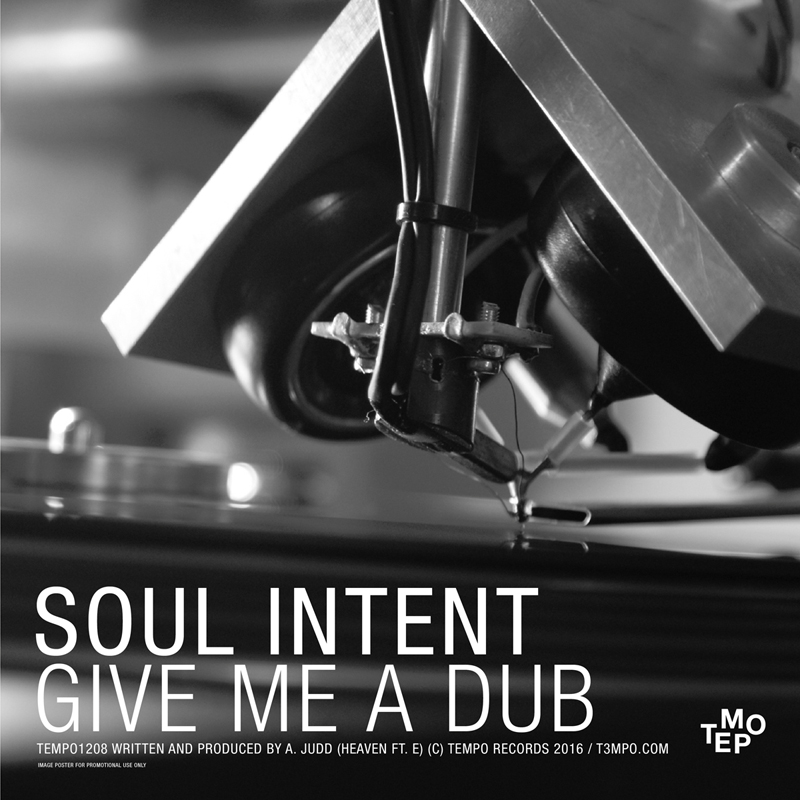 Listen & Share
Tracklisting:
A. Give Me A Dread

AA1. The Dread

AA2. Heaven ft.E

DJ Support & Feedback
Klute (Commercial Suicide) "I really like The Dread, great ep from Soul Intent"
Doc Scott (31 Records, Future Beats Radio) "Thank You!"
Zero T (Footprints, Quarantine) "nice1"
John B (Beta, Metalheadz) "BOOOHHHHHHH"
Hyroglifics (Metalheadz) "x"
DJ Trax (Moving Shadow, Tempo Rec) "thanks, will support on Catch A Groove Radio Show and gigs"
DJ Dara (Breakbeat Science, US) "Give Me A Dub is the one for me. Need more amen smashers in my life"
SB81 (Metalheadz) "Nice one!:)"
ArpXP (Metalheadz)"sick!"
DJ Flight (Play:Musik, Metalheadz) "Heaven is cool, I'm always a sucker for a bit of Apache"
DJ Storm (Metalheadz) "Good tracks"
Etherwood (Hospital) "Decent"
Chromatic (Innerground Rec) "Big tunes! :)"
DJ Clarky (Metalheadz) "nice selection of tracks here"
Chris Su (DSCI4) "Nice old school vibes"
DJ Monita (Skeleton Records) "Another top release, i'm playing "Give Me A Dub"!"
Script (Metalheadz) "Nice tunes. Very old school. I like:)"
M-Zine (31 Records) "thanks for the dubs!"
Mutated Forms (C.I.A. Rec) "massive!"
Brian (Translation Recordings) "Heaven Tempo is the one! Killer drums and vibe"
FD (Critical Rec) "Feeling this "Heaven ft. E" track!"
Philth (C.I.A. Rec) "Nicely done"
Radio
Al-John (Hyphen, Bush Radio Cape Town, South Africa) "Great label, superb output, 100% playing these on the show"
Thomas (Pulse, France) "One of my favorite jungle release in 2016. Every track took me deep into that awesome jungle spirit. Very well produced EP. Full support on radios and clubs."
Overfeed (Bassdrive) "Nice stuff! I think Heaven is the tune for me"
Kyle (Jungletrain Radio) "Good stuff, will be supporting"
Mark (RTE Spectrum Radio, Ireland) "Tempo always kill it with there releases this is no different Soul Intent kills it on this one the amen on give me a dub smashes the granny out of it"
G.H.O.S.T. (Rude FM, UK) "We will support"!
Harper Czworka (Radio Funkadelia / Bastion, Poland) "Big new Ep from Tempo, new Soul Intent cuts are killers, love their breaks attitude and will support them in my radioshows and DJ sets"
Michael (Shoe box – Renegade Monday's DNB Radio) "radio support"
Chris Muniz (Insomniac / Bassrush) "Ruff and rugged fresh vibes from Soul Intent on this one"
Kidhops (KEXP radio, USA) "Loving all 3 tunes and I am very excited to play these on my KEXP radio shows and in the clubs. Love the EP!"
Eradik (Space Invader Radio) "Another great release form Tempo. All the tunes are great, with a definite nod to the old school. 'The Dread' is my choice form the pack."
RBRT (Kane FM) "Wicked wicked wicked! Give me a dub is firing! I like all of these tracks a lot. Wicked to hear these jungle style tunes in 2016"
Stunna (Bassdrive) "Always quality from Mr.Soul Intent!"
Stanislav (Zima, Radio 1, Czech Rep) "I'll Airplay The Dread or Heaven"
Alex (Kemet FM) "sexy as fuck" 😉
Enorme (Blackdub Radio Show) "Top notch"!
…
Mags/Blogs
DNB Arena Interview (including Review)!
One Hour One DJ Review!
One Hour One DJ TOP 10!
Ninja Ninja Review!
Data Beats (Forthcoming/Confirmed) Interview/Feature!
DJ MAG (Spain) "it's serious!!"
Vali (NME Click) "Heavy armor on Give Me A Dub, it ́s a ruffntuff jam that will tear down any club environment. Heaven is wicked too, like the breaks and the vocal and in the long runs perhaps my favorite on here"
Damian (DNBA / Fried My Little Brain, UK) "fantastic"
Stereoboard "London-based DJ/producer Soul Intent has lined-up a new release via Tempo Records.Packed with expertly-chopped breaks, heavy bassweight, and that dream-like vibe that Soul Intent is so good at creating, Give Me a Dub is a clear example of how jungle music is still alive and kicking in 2016. Out on March 14, the collection is available on a limited-edition clear vinyl press that comes along with full artwork, glossy sleeves and an mp3 voucher, as well as a digital download. If you want to check out the tracks and buy the record, keep your eyes peeled on the Tempo website for updates!"
Stereo Website
Faze Magazine Germany: "Give Me A Dub" baut auf klassiche Kombi aus Tramen und Hardcore-stabs und liegt damit absolut richtig"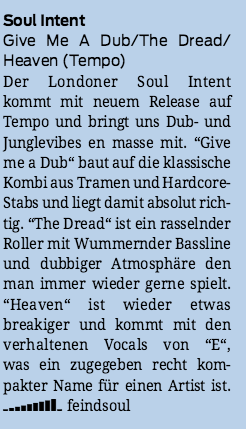 …
Podcast

Simon (See You next Life Podcast)"Always on the lookout for Soul Intent. All 3 tracks are solid but Give Me A Dub is the one that will work for us"
…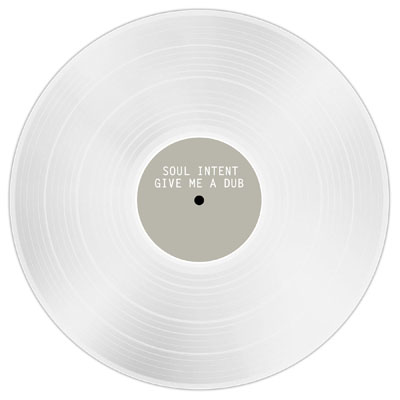 Buy Vinyl (releasedate: 14-03-2016)
Tempo NL | Clone NL | All City Records Dublin Ireland | Amoeba USA | Bleep UK | Boomkat UK | Bounce Audio AUS | Chez Emile, France | Decks DE | Deejay DE | Discogs Worldwide | Distortion NL | Doctor Vinyl Brussels BE | Eastern Block Records UK | Fenders DE | Hardwax DE | HHV DE | Idle Hands Records, Bristol UK | Inbound Records AUS | Intense Records UK | Jet Set Japan | Juno Records UK | Naminohana Records, Japan | Play De Record, Toronto, Canada | Redeye UK | Roughtrade UK | Sisterray UK | Technique JP | Triple Vision NL | Underground Gallery JP | Unearthed Sounds UK | …
Buy Digital (releasedate: 11-04-2016)
Juno
…
Stream
Youtube

All content copywrite control Tempo Records 2015