Tempo Records presents: A night of beautifull crafted Drum and Bass, Jungle and Breakbeats with special guest: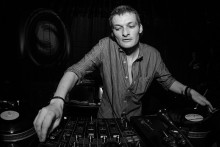 Source Direct, UK (SD Recordings, Metalheadz)
Jim baker is a pioneering Drum & Bass and Jungle artist who's been recording solo as Source Direct since 1999 (before then the project was a duo with Phil Aslett). It's a classic understatement to open an introduction such as this by saying that Source Direct's music means a lot of things to a lot of different people. But it's true. No one makes electronic music quite like Source Direct does. Beautifully crafted and complex, SD's music has always hinged around a fantastically future-bound formula that was galvanized amongst the current of the pioneering Drum & Bass and Jungle music that was being sculpted back in the '90s.
Source Direct tracks took the underground movement to new levels and alongside the Metalheadz family – whose darkly progressive sound became a revolutionary force within Drum & Bass music and much further beyond – they came to redifine the studio process and wider possibility of what it meant to combine samples, with break beats and synthesizer technology.
Source Direct Website | Source Direct Soundcloud | Source Direct Classic mix for Fact Magazine
Mix:

Classic:

+ PRPLX,NL (Tempo Records) & Friends.
After PRPLX first entitled album: Fabric Of Space on Tempo Records in 2012 which got huge support from all the underground DNB dj's (including Goldie). Now it's time to unleash some of PRPLX latest productions. Their sound can be described as "moody", a reflection of their innersoul's and beautifully crafted with break beats and deep sub bass with that distinct eerie "Space" sound.
Tonight PRPLX will invite some of their friends to play music they believe in and which you probably haven't heard before (at least not in the majority of the Dutch clubs).
PRPLX Soundcloud
Mix:

Enorme
First getting into Drum & Bass around the turn of the millennium, after being drawn in by the sounds of the classic Techstep era, Enorme started mixing in 2003 on a set of belt-drive Numarks.
Now based in Amsterdam in The Netherlands, is steadily building a reputation for rolling out dancefloors, representing the deeper, Techstep influenced side of the scene through his residency with the Haunted Science crew and his own Blackdub Sessions radio show.
Enorme Facebook
kevsteRRR; Back in 1991 he was sure, Breakbeat, or as he once, in a record store called it:"Toem-Toem-Tac House" was the thing to pursue. Played his first gig in 1993 age 15, found out to be also pioneering this "Hardcore Breakbeat" sound, what later evolved in Jungle and Drum & Bass, alongside Mr. Cixx and Fusion in the eastern part of The Netherlands.
Now this Rotterdam based (vinyl) DJ finds himself, as he calls it: "Sort of still pioneering it, since it's still evolving and never letting go".
kevsteRRR Soundcloud
MC Dart
MC Dart has been a raver almost all of his life. Went to his first all night drum'n bass rave in 1992 when he was 16 years old. Right there he lost it for several hours on the dance floor and a true raver was born. As growing up in the scene, he got familiar with MC's and recognized their skills on the mic. At a drum'n bass party in 1994 Dart grabbed the mic during a set of DJ Dreazz for the first time ever and liked what he did. Others where picking up on this and Dart was given the chance to chat up the crowd more often. He's been out there with the top notch of the Drum'n Bass (and Hardcore/Gabba and Garage) scenes. Played alongside, Grooverider, Andy C, Technical Itch, Ed Rush & Optical and many more.
MC Dart Facebook
VJ Hugo Meijer
Our inhouse visual meister will bring you in the right mood!
VJ Hugo Meijer Facebook
Tickets & Address & Web & Map
PRESALE/VVK WORM EUR 7.50
Door: EUR 10.00
Date: 12-03-2016
Open: 23.30 till 05.00
Address: Boomgaardsstraat 71, 3012 XA Rotterdam, NL.
WORM Website
Facebook Tempo Event
Facebook Tempo Social
Facebook Tempo Records Page
Instagram Tempo Records
Twitter Tempo / DJ Fusion
Soundcloud Tempo Records