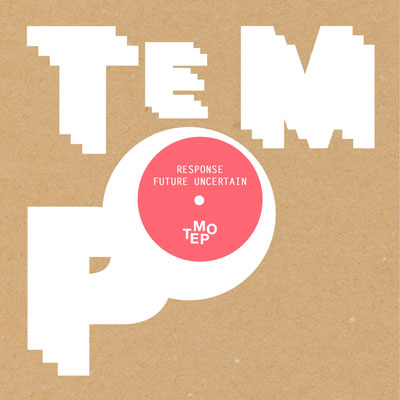 Releaseinfo
Artist: Response
Title: Future Uncertain
Label: Tempo Records
Catnumber: Tempo1210
EAN/Barcode: 8718723078719
Releasedate vinyl: Monday 05-12-2016
Releasedate digital: Sunday 01-01-2017
Mastering: Stuart Hawkes @ Metropolis Mastering
Distributed by: Clone Distribution
Formats: 140 gramm 12″ Clear Vinyl (including poster & download code voucher) & Digital & Streaming.
Releaseinfotext:
Tempo Records is proud to release three brand new energetic versatile Drum & Bass tracks by Response (featuring Pliskin).
This release comes as a limited 140g clear vinyl pressing with full artwork sleeve + white glossy inner sleeve, including a mp3 download voucher + a free poster/inlay and all tracks mastered by Stuart Hawkes of Metropolis Mastering London. When buying this from T3MPO.com you get a free Tempo logo sticker (untill stock lasts).
12″ Including Inlay/Insert: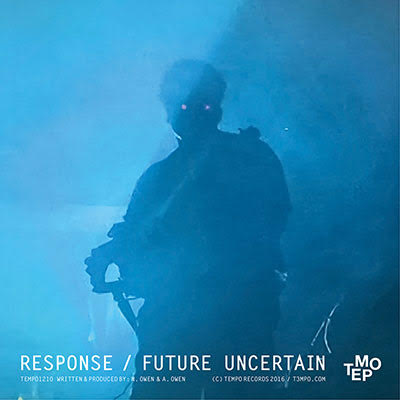 Tracklisting:
A. OT Blues

AA1. Seal Clubba

AA2. Future Uncertain

Listen & Share
DJ Support & Feedback
DJ Krust (V Rec, Full Cycle) "Lashing"
Doc Scott (Metalheadz, 31 Records) "Thank you"
Spirit (Inna:Active) "Future Uncertain" played on Rinse FM Show ft. Halogenix 15-04-2016″
Laurent Garnier (coleur 3 Switz, France) "Another superb release on the Dutch label …. Will present on my show … Thanks"
Marky (V Rec, Innerground) "Seal Cubba = Killer"
Spectrasoul (Metalheadz, Shogun) "Thanks"
Gremlinz (Renegade Hardware) "Sick"
John B (Metalheadz, Beta) "that amen ahhhh yeah!"
A-Sides (East Side Records) "Seal Clubba" & "Future Uncertain" are the ones for me, cheers"
DJ Trax (Moving Shadow) "selected in our podcast and playing out on gigs"
DJ Monita (Skeleton Rec) "Definitely will be supporting OT Blues 100%"
Mikal (Metalheadz) "Quality release! Will def support"
arpXP (Metalheadz) "tempo always delivers great music, "Future Uncertain" is a TUNE!"
SK81 (Metalheadz) "Future Uncertain is a nice, thanks!"
Pennygiles (IM:LTD, Demand Rec) "Cheers bro! Will be sure to check & play out"
Anile (Med School, Commercial Suicide) "Fire… big tunes!! Future Uncertain has the edge.. Soul:R vibes!!"
Tendai (Jamai Vu) ""This is a great single. OT Blues is one of serious amen roller!!!!"
Arkaik (Dispatch) ""Seal Clubba, fucking tune mate!, will be supporting over in Asia"
…
Response TOP 5 For DNB DOJO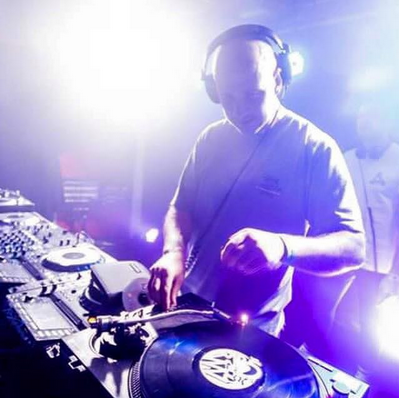 Response TOP 5 For DNB DOJO
Radio & Podcast
Spirit (Rinse FM 15-04-2016) Response 'Future Uncertain" at 59min15sec!

Bailey (Mi Soul Radio) Response "OT Blues" at 49min
DJ Trax & Nucleus – Catch a Groove Podcast
Rob, Kane FM "Fire fire fire! Always love hearing new beats from response. Great work again from Tempo records. Is that a sneaky Blade Runner sample in OT Blues? Quality tune. Future Uncertain is decent too. Proper roller."
Overfiend (Bassdrive) "OT Blues is a very interesting track, in particular"
Al-John, Hyphen (Bush Radio Cape Town) "Cool stuff ! "
Dave Eavesdrop (UP FM) "My favourite release from tempo to date! Love it!"
Stanislav Zima (Radio 1, CZ) "Quality stuff! Will support for sure! Cheers man!
Harper CZworka Polskie Radio, Funkadelia) "Strong new EP from Tempo, "OT Blues" is my pick here. WIll support it. Thanks"
Simon (See You next Life Podcast & Night) "Personally feeling OT Blues most but Seal Clubba will be perfect for those WTF? dancefloor moments.
…
Mags/Blogs
Adam, Ninja Ninja "Nice. OT Blues is wicked – is it available to premiere?"
Nick, In-Reach "Feeling this one! Response always on point"
DNB Dojo "Nice"
…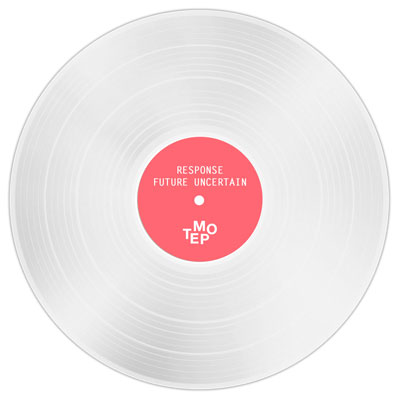 Buy Vinyl (expected releasedate: 18-07-2016)
Tempo Records Shop NL | Clone NL | All City Records Dublin Ireland | Amoeba USA | Bleep UK | Boomkat UK | Bounce Audio AUS | Chez Emile FR | Decks DE | Deejay DE | Discogs Worldwide | Distortion NL | Doctor Vinyl BE | Eastern Block Records UK | Fenders DE | Hardwax DE | HHV DE | Idle Hands Records UK | Inbound Records AUS | Intense Records UK | Jet Set JP | Juno Records UK | Naminohana Records JP | Play De Record CAN | Redeye UK | Roughtrade UK | Sisterray UK | Technique JP | Triple Vision NL | Underground Gallery JP | Unearthed Sounds UK | …
Buy Digital (expected releasedate: 15-08-2016)
…
Stream
All content copywrite control Tempo Records 2016