Source Direct | Dangerous Curves (Picture Disc) | Tempo Records | Speed03 | ID_Speed03
Only 1 left in stock
**LAST 2 COPIES / NO PICTURE DISC REPRESS**
Tempo Records present SPEED, a new Tempo Records sublabel & project released on a limited collectors handnumbered 180gram coloured picture disc vinyl with original & legendary producers who helped shaping the Drum & Bass scene. After the DJ Trace & DJ Krust releases on Tempo's SPEED series here's the living legendary 'call & response' originator: Source Direct.
Source Direct, along with Goldie, Photek, Peshay and Wax Doctor, one of a handful of stand-out artists who were signed to major labels in the wake of Jungle's/Drum and Bass' popular explosion.
Around 1995 Source Direct would have been primarily known as 'intelligent' or 'Speed' artists (after LTJ Bukem's and Fabio's legendary SPEED midweek club, held at the Mars Bar in central London). Speed, and then Metalheadz at the Blue Note shortly afterwards, helped pave the way for dj's & producers like Source Direct to experiment with deeper material.
On this release you'll find new Source Direct material with 'that' distinct trademark SD sound; superbly engineered breakbeats, the relentless sonic, rhythmic, tempo experimentation and haunting 'Blade' film-scape 'dark sounds from beyond' atmospheres accompanied with deep sub-aquatic resonant bass lines. If there's one production technique Source Direct applied it's the 'call & response' technique (the latter is also the track title of SD's contribution to 1998's Stephen Norrington's 'Blade' cult movie which starred Wesley Snipes).
Vinyl collectors please check: This release comes as a strictly limited 600 copies handnumbered 180gram Picture Disc Vinyl pressing with a high quality polybag sleeve (including a handnumbered qty sticker on polybag corner & handnumbered A4 insert) + all tracks mastered by Stuart Hawkes of Metropolis Mastering London. First come, first served, no picture disc repress!
Note: The sound quality on a picture disc may be less good as on a regular standard vinyl! For the full sound experience, you may buy a full digital wav or flac quality download.
A. Dangerous Curves

AA. Game Play

Bandcamp:

Soundcloud:

Interviews:
For an 'in depth' Source Direct special check here: Fact's Source Direct special and to check legendary SD footage/documentation from VPRO's LoLaDaMusica check here: Source Direct LoLaDaMusica Special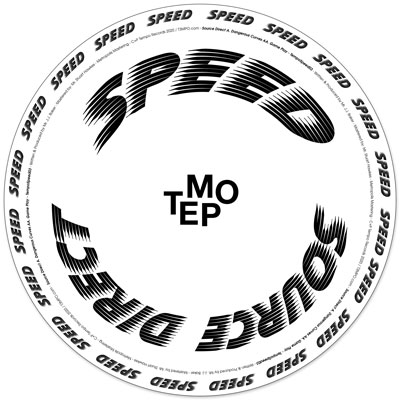 Need Help? Contact Us Leave Feedback
Categories: Drum & Bass, Jungle, Recommended, Vinyl
Tags: Collectors Item, Dangerous Curves, Drum & Bass, Game Play, Jungle, Limited Edition 180gramm Handnumbered Silver 12" Picture Disc Vinyl, Source Direct, SPEED, Tempo Records