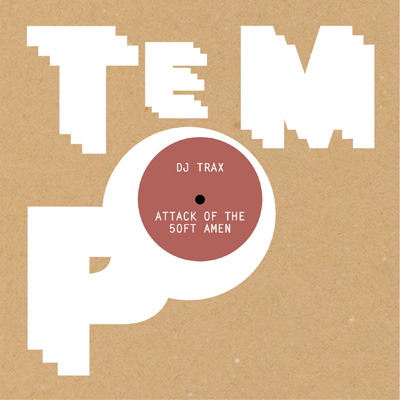 Release Info
Artist: DJ Trax
Title: Attack Of The 50ft Amen
Label: Tempo Records
Catnumber: Tempo1204
EAN: 8718723038607
Mastering: Stuart Hawkes @ Metropolis Mastering
Distributed by: Clone Distribution
Formats: 140 gramm 12″ Clear Vinyl & Digital & Streaming
Releaseinfotext:
Tempo Records is proud to announce & release three brand new tracks by DJ Trax. He has been releasing records since 1991 on labels such as Moving Shadow, Goodlooking, and many more. As well as solo releases, he has recorded with Paradox under various aliases including Mixrace.
Tempo Records picked three of DJ Trax' latest creations, and since it's hard to describe them here's DJ Trax' own words: "The title track 'Attack Of The 50ft Amen' was inspired by 50s B-Movies, in particular Attack Of The 50ft Woman. Fifty Foot beats meet atmospheric drum and bass. 89 'Til Infinity is a reference to Souls Of Mischiefs – 93 'Til Infinity. That track really captured an era in hip hop which still continues to influence the scene and will do for many years to come. I wanted to do similar but to capture the Detroit type sounds of 1989. Finally Bring It Back is a nod back to the mid 90's. In particular nights like Speed down at the Mars Bar. It also shows how my love of Funk and Soul influences my music."
This release comes with a mp3 download voucher, all tracks mastered by Stuart Hawkes of Metropolis mastering London, limited 140 gramms clear vinyl pressing with full artwork sleeve, including 250 yellow posters/inlays and only 100 posters/inlays signed by DJ Trax where made (this poster artwork inspired DJ Trax to write the title track). Highly recommended.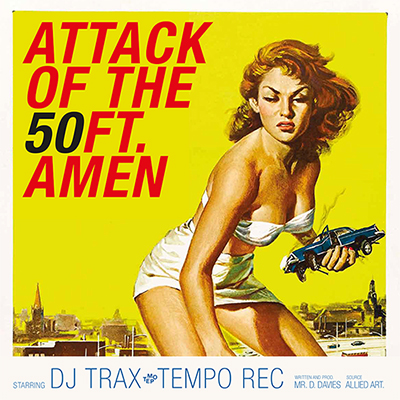 Video

DJ Trax Attack Of The 50ft Amen EP from Divert on Vimeo.
Tracklisting & Soundclips
A. Attack Of The 50ft Amen

AA1. 89 'Til Infinity

AA2. Bring It Back

Share
Support
Nookie, Laurent Garnier, Doc Scott, Paradox, DJ Storm, DJ Flight, Voyager, John B, Phil Tangent, Tendai, DJ Chef, Ricky Force, Justice, Bay B Kane, DJ Monita, Tim Reaper …
Feedback
Nookie: "Loving 89 `Til Infinity! Great acid/Mr fingers vibe and the Trax trademark Breaks!"
Voyager: "Attack Of The 50ft Amen – Love this, it's got golden written all over it. Bangin Amen, gorgeous synths and sounds that break into a proper "heads down" roller. Wicked tune.
89 'Till Infinity – Another fat roller. Feeling the hypnotic b-line and arpeggios…. straight up grooves for the dance floor. Awesome tune.
Bring It Back – Super charged funked up DnB, love the production on this…the relentless groove and looped samples work so well together, another masterpiece.
All 3 of these tracks are awesome, Dave really flexing it out, and showing his pedigree, expertise and vibes on this Ep. Love the organic, crunchy sound to all the tracks………..proper!!".
Paradox: "Solid 3-tracker 12" from Dj Trax!! Attack of the 50ft Amen is my Fav!".
Laurent Garnier: "I just had a listen to these 3 tracks from DJ Trax, Whaouuuu these blew me away, this is fucking excellent. Merciiiiiiiiiiiiiiiiiii".
Phil Tangent: "that 50 ft amen track – it's a great track man, sure ill be playing that in prague next month".
Doc Scott: "Thank you".
DJ Storm: "have to say I really like it and am playing it out".
DJ Flight: "nice tunes", will play 89 'Til Infinity on Rinse FM".
John B: "already played the 50 foot amen track on my Podcast episode 129 🙂 love it! keep em coming!"
DJ Tendai (Swerve) "Another huge release. Loving it!!!".
Ash Attack (BM Soho & Bassdrive) "I Like This".
DJ Chef (Kool FM) "Been playing This…"
Ricky Force: "yeah they're nice! V well produced as always. Solid release either way!:thumbsup:".
Justice: "A massive release from the legendary Dj Trax, 50 ft Amens a plenty and the ever present b boy attitude underpin this huge record".
Bay B Kane: "i really like the main amen track & what jumps out at me from that is the way that you've got the amen sounding so rounded if you get my meaning…Like theres no jaggedness about it almost like you sat down with a fine file and shaped it by hand then used the finest emery cloth to really smooth it off! Bigup nice production as usual".
DJ Monita (Skeleton Records) "what a quality 3 tracker!! "Bring it back"….Love that vibe!! "50 foot Amen"….Serious breaks, serious tune".
Tim Reaper: "they're very interesting, I'm enjoying them especially Attack of The 50ft Amen, great release as usual".
…
Podcasts & Interviews & Reviews & Blogs

DJ Flight (Rinse FM, Play:Musik) playing DJ Trax' 89 'Til Infinity (released on Tempo Records) DOWNLOAD HERE (select Flight > 09-04-2014) or listen here (track starts at 1:56)
Flight's The Next Chapter ft Altered Natives Show On Rinse FM
The Next Chapter ft Altered Natives [08.04.14] by Dj Flight on Mixcloud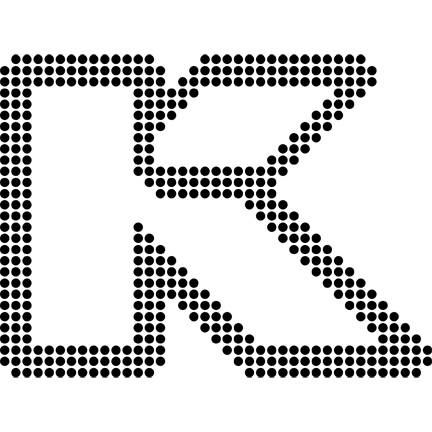 Kmag Podcast Plays DJ Trax' "Bring It Back" Listen HERE
More radio/podcast support:
Tom Ravenscroft (BBC Radio 6) 08-08-2014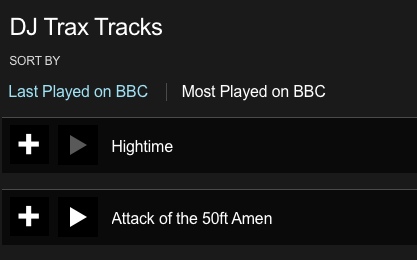 Ministry Of Sound Metalheadz Podcast (DJ Storm; Really loving this DJ Trax ep , he has a nice individual style, I am liking all the tracks but yes I agree Attack of the 50ft Amen is the best), Kool FM London (DJ Chef), Bassdrive USA (Greenroom + Ash Attack), Kemet FM UK (Soul Intent), Unity Radio (S-Man), Czech Radio 1 (Zima), XFM UK (Eddy Temple Morris + John Kennedy), Ego FM Germany (Selekta), Vancouver FM Canada (Van City Drop), Hardbass Dealers Podcast France, See You Next LiFe Podcast UK, Tecktone Show Macedonia, Kane FM UK (RBRT + Euphoric), De Ja Vu FM UK (Urban Nerds), Hausar Reykjavik (Bjarni), Polski Radio (Funkadelia), UK Bass Radio (Blackdub), Silent Dust Podcast UK,
…
Podcast
Tracklisting:
01. Okee | Shoot The Moon | Omni Music Dub
02. Infest | Time Will Tell | Reminiscence Dub
03. Madcap | Mind Adventures | Criminal Minds Dub
04. DJ Trax | 89 'Til Infinity | Tempo Records | Tempo1204
05. Rainforest | Moon Gazing | Dub
06. Justice & Metro | Spikes | Modern Urban Jazz Dub
07. DJ Trax | Bring It Back | Tempo Records | Tempo1204
08. Probe One | Voyage | Repitoire Dub
09. Phuture T | Tactile | Jungletrain Recs Dub
10. Cryogenics | Chamber One | Omni Music Dub
11. DJ Trax | Attack Of The 50ft Amen | Tempo Records | Tempo1204
12. Fada | Vapours V.I.P | Pinecone Moonshine Dub
13. Martian Man | Saddle Up (Greenleaf RMX) | Dub
14. Enjoy | Wax Factor | Evil Audio Dub
15. Law & Wheeler | Natural Resource | Repitoire Dub
16. Artificial Skys & Griever | Our Kingdom | Dub
17. Theory | Be Humble | Dub
18. Andy Skopes | Foolish | Dub
19. Critical Resistance | Soul Direct | Dub
20. Thesis | Activated | Soul Deep Dub
Download via Soundcloud
Buy: DJ Trax | Attack Of The 50ft Amen EP | Tempo Records | Tempo1204
Classic
DJ Trax Selection
01. Cryogenics | Aquarius | Minus 32
02. Madcap | Dangerous | Creative Wax Dub
03. DJ Trax | Attack Of THe 50ft Amen | Tempo Records | Tempo1204
04. Okee | Shoot The Moon | Omni Music Dub
05. DJ Trax & Naibu | All Is Silent | Subtle Audio Dub
06. Ricky Force & Mecca | The Essence | Dub
07. Justice & Metro | Think Magnificent | Modern Urban Jazz Dub
08. Theory | Originate VIP | Dub
09. Villem & MCleod | Warm Communications Dub
10. Acid Lab | Saturn V | Faded Music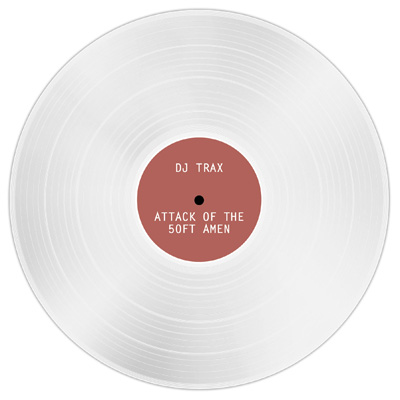 Buy Vinyl
Tempo NL | Clone NL | Amoeba USA | Bleep UK | Black Market Soho UK | Boomkat UK | Bounce Audio AUS | Decks DE | Deejay DE | Discogs Worldwide | Distortion NL | Doctor Vinyl Brussels BE | Eastern Block Records UK | Fenders DE | HHV DE | Inbound Records AUS | Intense Records UK | Juno Records UK | Phonica Records UK | Redeye UK | Technique JP | Triple Vision NL | Underground Gallery JP | …
Coming soon at:
Roughtrade UK | Sisterray UK | …
Buy Digital
Juno
…
Stream
All content copywrite control Tempo Records 2014