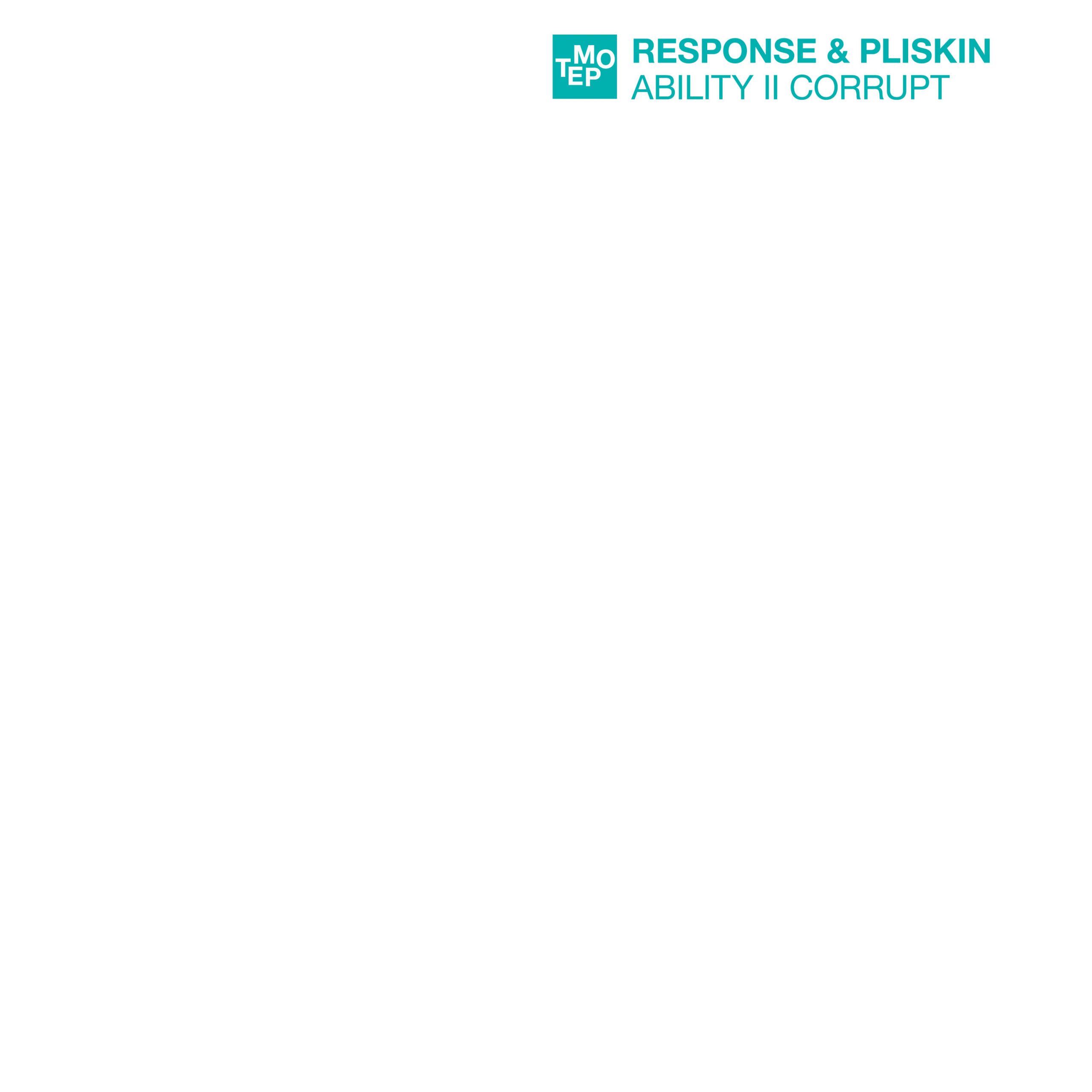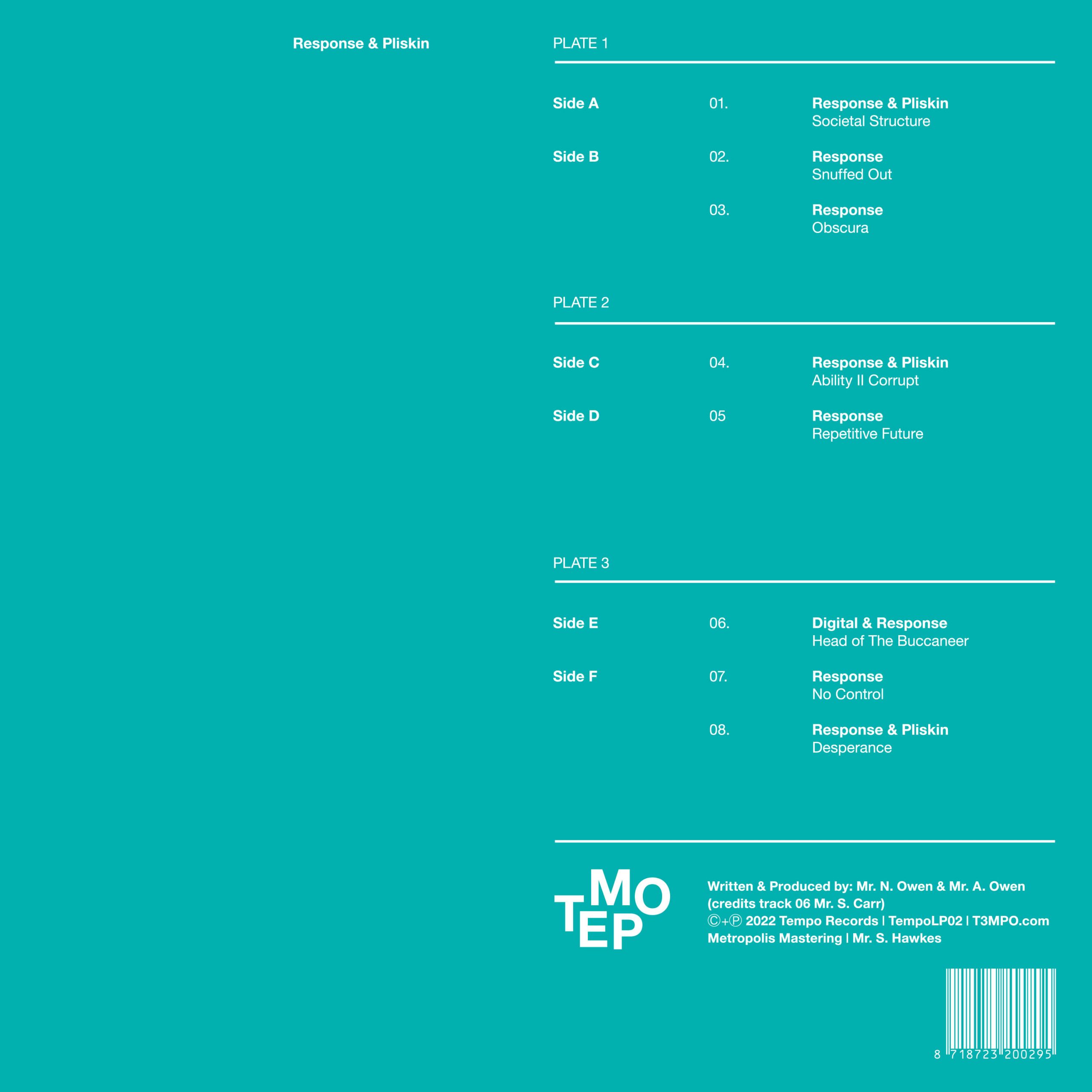 Releaseinfo
Artist: Response & Pliskin
Title: Ability II Corrupt
Label: Tempo Records
Catnumber: TempoLP02
Formats: Limited Crystal Clear 3×12″ Vinyl Album & Digital & Streaming.
EAN/Barcode: 8718723 200295 ISRC: NL-US4-20-00033 / NL-US4-20-00034 / NL-US4-20-00035 / NL-US4-20-00036 / NL-US4-20-00037 / NL-US4-20-00038 / NL-US4-20-00039 /
NL-US4-20-00040
Releasedate vinyl: 25-07-2022
Releasedate digital & streaming: 25-07-2022
Mastering: Stuart Hawkes @ Metropolis Mastering
Distributed by: Clone Distribution & Clone Digital
Tracklisting:
Plate1:
01. Societal Structure
02. Snuffed Out
03. Obscura
Plate2:
04. Ability II Corrupt
05. Repetitive Future
Plate3:
06. Head of the Buccaneer ft. Digital
07. No Control
08. Desperance
Listen & Buy on Bandcamp:

Releaseinfotext:
Mesmerizing long tracks that explore the boundaries of drum and bass, breakbeat jungle tekno. Images of a far dystopian new world order are found. On Repetitive Future the pioneering & legendary producer Digital co-ops with Response in true functional form the realms of the drum and bass spectre which results in moody ambient deep pads, boldly constructed heavy beat structures, and blissfully melodic liquid breaks to full effect. The Mancunian duo explores the ability to corrupt.
All tracks mastered by the legendary Stuart Hawkes at Metropolis Mastering.
This beautiful crafted crystal clear limited edition vinyl 3×12″(no crystal clear repress) comes in a new designed Tempo Records high quality outer sleeve + a white glossy innersleeve and completely sealed.
New Tempo sticker will be added when ordering via BC or T3MPO.com (as long as stock last)!
PLEASE NOTE:
Releasedates may change at any given moment due to large delays at the pressingplant (still due to COVID-19 and major labels pressing vinyl again).
VINYL ORDERS: pre-ordered items placed with released Tempo Records orders will be send once this pre-order item release is in stock and shipped combined to save shippingcost. A shipping notification will be automatically send once the package leaves (if not pls check your spam/junk folder).
***UK BUYERS PLEASE BE AWARE THAT IMPORTCOST MIGHT BE ADDED DUE TO BREXIT!! TEMPO RECORDS CAN NOT BE HELD RESPONSIBLE FOR ANY EXTRA COST OR DELAYS***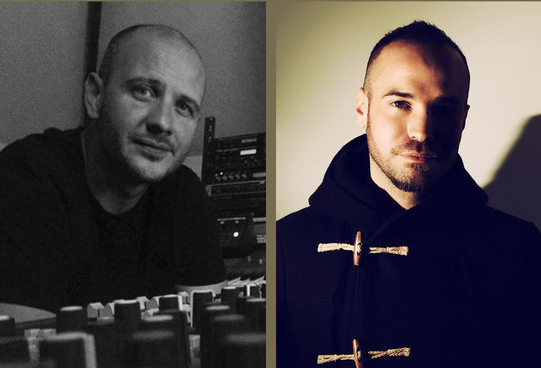 Early DJ Support & Feedback
DJ Storm (Metalheadz) "I supported 'Obscura' in one of my Metalheadz radio shows"
LTJ Bukem (Goodlooking Records) "Yea the Digital & Response H'ead of the Buccaneer' is nice for sure"
Lemon D (Valve, Prototype) "will def be giving a listen today – I'm in studio :)"
DJ Crystl (Deejay Recordings, Lucky Spin, Deep Jungle) "Respect thanks 🙏🏻 again for sending through there's some nice tracks man, thanks bro!!"
Rene Lavice (BBC Radio 1) "Thanks for your submission for the Radio 1 Drum & Bass show"
Laurent Garnier (ITISWHATITIS Radio France) "Awesome, Thanks a lot😊"
John B (Metalheadz, Beta) "Oooh exciting! Huge Response fan, absolutely love this – refined quality all the way. Big up!!"
Foul Play (Moving Shadow) "Great release, dance floor friendly but plenty for the mind and the soul. 'Head of the Buccaneer' is the stand out for me. Will definitely be getting played next time I play out… that drop, sheesh. "
Tom (Fresh86, Redeye UK) "The Response LP is good and a good selection, thanks."
DJ Madcap (Creative Wax, AKO) "Hey Frodo, many thanks mate, my fav is the colab with Digital "Head of the Buccaneer". I've included on this week's Mi-Soul Show which goes out on Friday (& given you a shout) ;)"
Rachel Green (Zohar, Echobox Radio NL) "yesyessssss! Dankjewel Frodo!"
Etch (Sneaker Social, Ilian Tape, Tempo Rec) "incredible album".
John Tejada (Palette rec) "There's a lot of really fun stuff on here. Perhaps my fav if I had to pick is Obscura as it's just so rough and raw."
Acid Lab "I listened to the whole album and it sounds wicked, nice stuff, very talented guys and big ups for that, keep the good work up and greets…P.S. hard to pick a fave, but I always love Amenbreaks a lot, still today…"
Monita (Skeleton Rec) "Thank you man! I'll support"
Folding Waves "Love the vibe of the album, we will definitely play these on the radio show."
REVIEWS
t.b.a.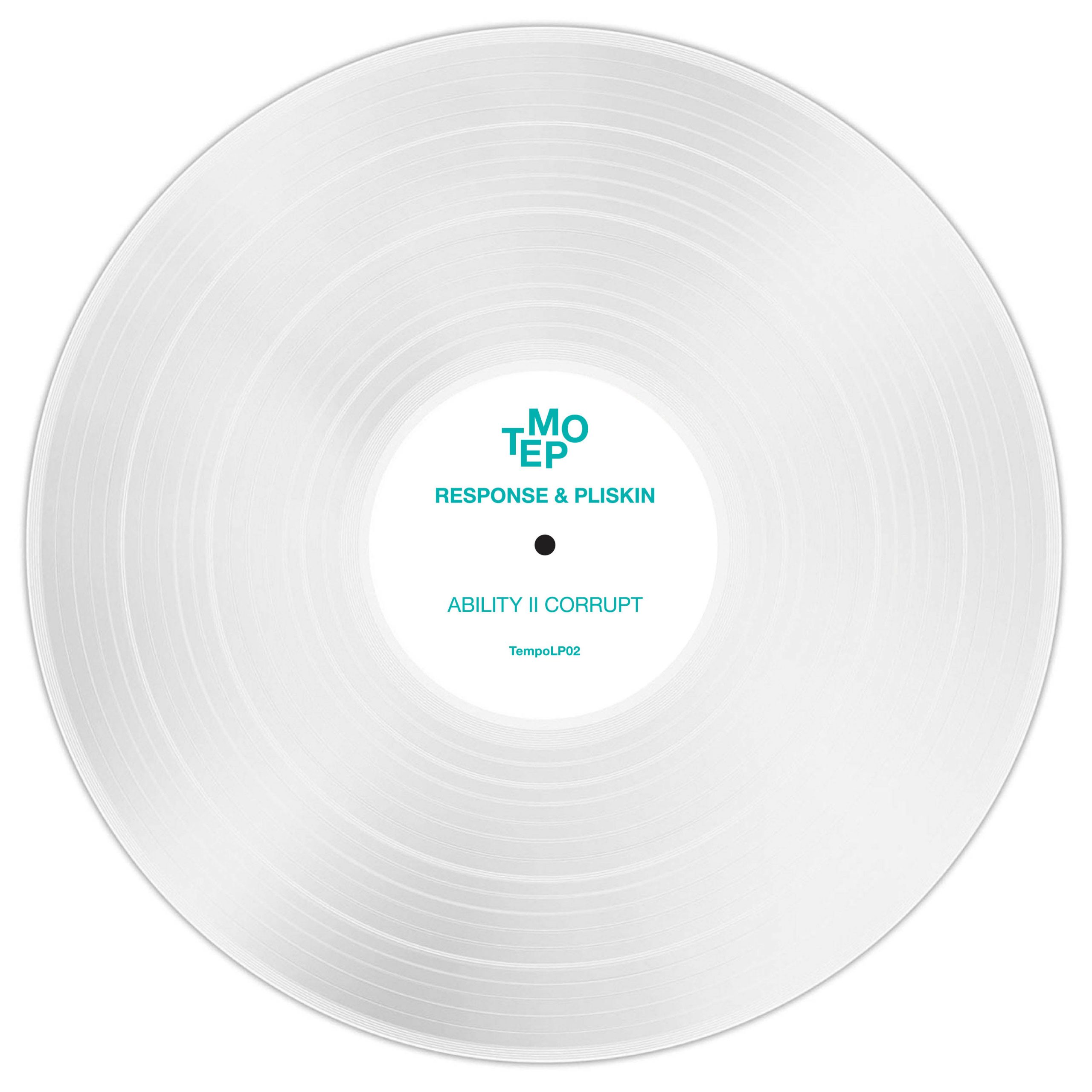 Buy Vinyl (releasedate: 25-07-2022)
Tempo Records Shop NL | Bandcamp | Clone NL | All City Records Dublin Ireland | Amoeba USA | Bleep UK | Boomkat UK | Bounce Audio AUS | Chez Emile FR | Coldcuts UK | Decks DE | Deejay DE | Discogs Worldwide | Distortion NL | Doctor Vinyl BE | Eastern Block Records UK | Fenders DE | Grind Records, JPN | Hardwax DE | HHV DE | Idle Hands Records UK | Inbound Records AUS | Intense Records UK | Jet Set JP | Juno Records UK | Lobster Records UK | Moove Records Shop JPN | Naminohana Records JPN | Play De Record CAN | Redeye UK | Roughtrade UK | Sisterray UK | Syncrophone FR | Technique JP | Triple Vision NL | Underground Gallery JP | Unearthed Sounds UK | …
Buy Digital (releasedate: 25-07-2022)
…
Stream (releasedate: 25-07-2022)
Catalogue:
Tempo Records Digital Catalogue
(c) + (p) Tempo Records 2022