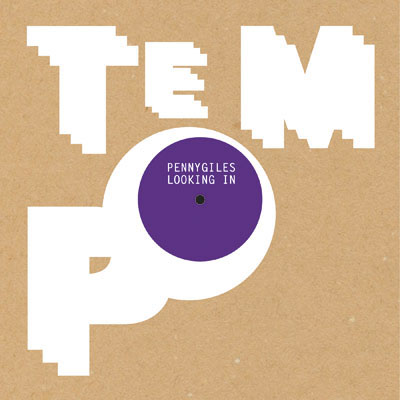 Release Info
Artist: Pennygiles
Title: Looking In (ft. Ed:It)
Label: Tempo Records
Catnumber: Tempo1206
EAN: 8718723050654
Releasedate vinyl: September 7th 2015
Releasedate digital: November 09th 2015
Mastering: Stuart Hawkes @ Metropolis Mastering
Distributed by: Clone Distribution
Formats: 140 gramm 12″ Clear Vinyl & Digital & Streaming
Releaseinfotext:
Tempo Records is proud to announce & release three brand new tracks by Pennygiles. "Looking In" featuring fellow producer ED:It has a hazy air, where the drums need to be peeled away layer by layer. "Without Worry" is a breezier jam with treacle subs and a faraway vocal. "Lie Through Me" brings us to the climax. The softest, most emotional cut of the bunch, this one is all about the dreamy pads, velvet subs and lush brushed snares.
This release comes with a mp3 download voucher, all tracks mastered by Stuart Hawkes of Metropolis mastering London, limited 140g clear vinyl pressing with full artwork sleeve + yellow/brown Gustav Wasa innersleeve + a free poster/inlay: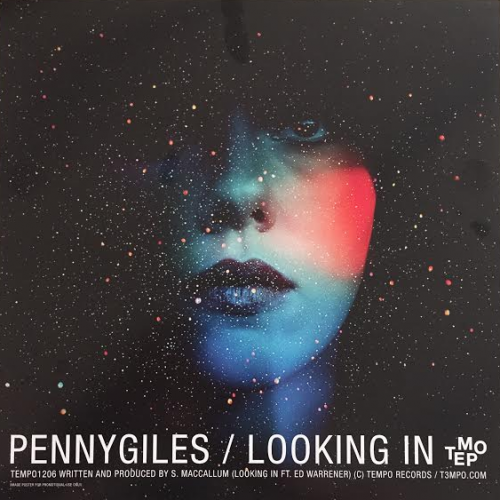 Listen & Share
A. Looking In ft. Ed:It

AA1. Without Worry

AA2. Lie Through Me

Early Support & Feedback
DJ Krust "good Stuff"
Doc Scott "thank you, i'll support"
Bryan G "thanks, will support"
Spectrasoul "rolling!"
Laurent Garnier (it Is What It Is Radio, France) Many thanks for this great EP, I looove them …. will make sure to present them soon on the radio show. Niiiiiiiiiiiiiiiiccccccceeeeeeeeeeeeeeee!
Gremlinz "loving this release"
Zero T "Cheers, will support"
DJ Storm "excellent, loving both tracks"
DJ Flight " Quite nice release, looking In sounds a bit like a Calibre x dBridge hybrid of old"
Phil Tangent "wicked release"
A Side "loving this, Pennygiles coming correct"
Mosus/ Need for Mirrors "sounding good"
Mikal "Nice one, fave for me is Without Worry, seriously rolling track'
ArpXP "this release is huge, i'll play both tracks"
Eveson "niceness"
Sabre "it's cool"
Chromatic "great production on all 3 tunes"
Tokyo Prose "yea pennygiles is a don, Lie Through Me and Without Worry are siick"
Philth " my favorite is Without Worry, super deep"
Halogenix "biggg"
Soul Intent "hella dope"
Chris Su "good release"
Physics "soulful quality"
Tendai "one great ep of deep liquid cuts, no fillers in here"
Ashatack "really feeling the beats"
Kabuki "looking forward to play this in a club"
FD "without Worry is the one for me"
DJ Chef "full radio & club support"
SB81 "thanks for this, will support" …
Early Radio & Interviews & Reviews & Blogs
KongKast: "Looking in with Edit is the one. rolling vibes".
RTE Dublin: "Pennygiles can do no wrong & Tempo are always quality, great combo"
Bush Radio Capetown: "Timeless quality dnb here, fully behind this on the radio show"
Mags:
DJ Mag Italy (Andrea Camerino) "8/10"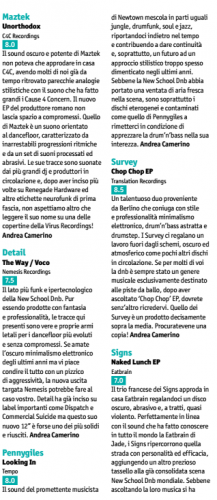 Mixmag Germany: "8/10"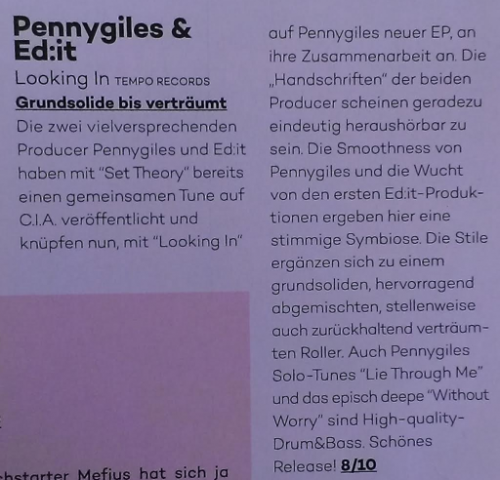 YouTube promo channels:
CapitalDrumAndBass
DifferentDrumz
Interviews:
Pennygiles Interview @ The What
…
Podcast
Event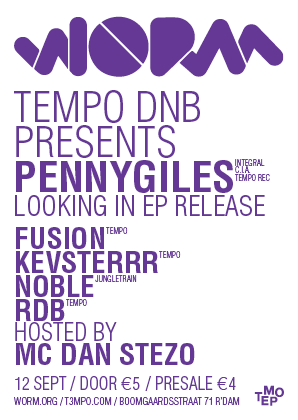 Buy Vinyl
Tempo NL | Clone NL | | All City Records Dublin Ireland | Amoeba USA | Bleep UK | Boomkat UK | Bounce Audio AUS | Decks DE | Deejay DE | Discogs Worldwide | Distortion NL | Doctor Vinyl Brussels BE | Eastern Block Records UK | Fenders DE | Hardwax DE | HHV DE | Idle Hands Records, Bristol UK | Inbound Records AUS | Intense Records UK | Jet Set Japan | Juno Records UK | Naminohana Records, Japan | Phonica Records UK | Play De Record, Toronto, Canada | Redeye UK | Roughtrade UK | Sisterray UK | Technique JP | Triple Vision NL | Underground Gallery JP | Unearthed Sounds UK
Buy Digital
Juno
…
Stream
Youtube

All content copywrite control Tempo Records 2015