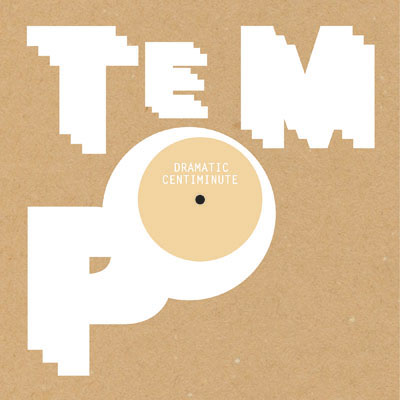 Release Info
Artist: dRamatic
Title: Centiminute
Label: Tempo Records
Catnumber: Tempo1207
EAN: 8718723050661
Releasedate vinyl: November 2nd 2015
Releasedate digital: November 16th 2015
Mastering: Stuart Hawkes @ Metropolis Mastering
Distributed by: Clone Distribution
Formats: 140 gramm 12″ Clear Vinyl & Digital & Streaming
Releaseinfotext:
Tempo Records is proud to announce & release three brand new tracks by dRamatic. On Dutch Tempo Records he flies solo with three beautifully contrasting slices of modern jungle gold: "Centiminute" is a hazy, dreamy liquid roller that has echoes of the early Liquid Drum and Bass golden days. "Dogs On Redbull", meanwhile, is much heavier with it's noughties-style bass-fronted affair (approved and supported by DJ Krust). Finally we hit "Molecular" which harbours a distinctly familiar hook and keys so warm you won't need to heat your house until the winter.
This release comes with a mp3 download voucher, all tracks mastered by Stuart Hawkes of Metropolis mastering London, limited 140g clear vinyl pressing with full artwork sleeve + yellow/brown Gustav Wasa innersleeve + a free poster/inlay: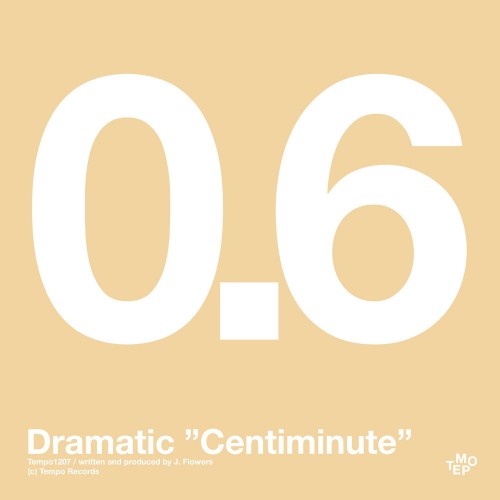 Listen & Share
A. Centiminute

AA1. Dogs On Redbull

AA2. Molecular

Early Support & Feedback
LTJ Bukem (Goodlooking Records) "Loving the dRamatic pieces, I've been supporting for sometime"
Grooverider "Centiminute" featured in the DJ Mag podcast at 48:00 min)
London Elektricity ("Centiminute" + featured in the Hospital podcast 272, CLICK HERE at 45:00min)
Laurent Garnier (it Is What It Is Radio, France) Many thanks for this great EP, I looove them …. will make sure to present them soon on the radio show. Niiiiiiiiiiiiiiiiccccccceeeeeeeeeeeeeeee!
Digital (Function Rec) "i like Molecular"
DJ Krust "Dogs on Redbull ROLLING!!!!!"
DJ Marky "Good"
Bryan G "thanks, will support"
Klute "All about Dogs on Redbull!"
Doc Scott "Thank You!"
Zero T "Cheers, will support"
Spectrasoul "I Like This, Thanks"
The Invaderz ""Nice little simple roller…"
Phil Tangent "Centiminute is great"
Skeptical "Dogs on redbull has a wicked little vibe about it. thanks"
DJ Storm "realy wicked"
DJ Flight "Molecular is my pick, nice tune"
A-Sides "Lovely release right here all tax boom!"
Drumsound & Bassline Smith "Nice, thanks"
Mikal "Loving "Centiminute"!"
ArpXP ""Love it! Big tunes!"
SB81 "thanks for this, will support"
Physics "These are all rolling dancefloor tunes, the way i like it. Will support these for sure!"
Chris Su "Love this release, would be good for summer parties and radio"
DJ Chef "3 wkd track love the vibes …full support"
Chromatic "Strong Release"
Tokyo Prose "Centimute and Molecular are cool"
Chroma "nice"
Mutated Forms "Good Vibes"
FD "Nice vibes, keep up the good work, some good stuff going on with Tempo"
Ashatack "Nice rolling vibes"
Early Radio & Mags & Blogs
Rinse FM (J:Kenzo) "Nice Release"
Origin FM "Centiminute and molecular are classic dRamatic, Dogs on Redbull is the one though! Glitchy drop, avec bass monsieur, merci beaucoup"
RTE "Spectrum" Radio Dublin "dramatic never fails loving the liquid and the harder groove on Dogs on Redbull beautiful stuff"
Kiss FM Australia, The Dance Mission DnB Show "Yup, the good stuff! Liquid gold. Love it :)"
Signaii FM, Slovakia "Looks like guys @ Tempo have amazing season right now. Superb pennygiles and now Dramatic! Centiminute + Molecular = <3, so nice tunes, softly rolling and going deeper under the skin! Be sure, those will get airplay over Slovakia :)"
Bush Radio Cape Town, South Africa: "Super cool stuff , nice and varied , 100% gonna be playing a bunch on the radio show"
Pheonix FM, France "Molecular is the one we chose! relaxing melody with lightly rollingrhythm, perfect for a drive or a nice sunshine afternoon!"
Radio 1, Czech Republic "Nice tunes, will give it airplays."
Kane FM Loving the Tempo releases lately. Hope they keep them coming.
Pulse Radio, France "dRamatic teams up with Tempo Records to deliver a fresh slice of summer vibes, with a taste of 90s jungle. Favorite goes to Dogs on RedBull, not only because of its title. Also loved the smoothness of Molecular."
GlobalFunk, Mach4, Dubai "wicked release from Dramatic. Dogs On Redbull is a baaaaaaaaad tune. Will get an outing at GlobalFUnk here in Dubai tomorrow for sure."
Unity Radio "Dramatic continue to go from strength to strength. Great EP, good solid tunes. Will get full radio and club support"
NME Click: "Centiminute is a tune, Dogs on Redbull is fun too. Tempo doing it right right now."
Kmag "Really liking Tempo's output"
Fried My Little Brain "Love it"
DJ Mag Spain "Dogs on redbull, sick!"
Do Androids Dance "very sick release. Dogs On Redbull is the one."
Breakzblog.biz "Tempo Records is on my at least TOP10 labels to watch out for with this release!"
Ninja Ninja "wicked tunes, glad to see some more regular output from Tempo Records"
Trash Pilot mag "Centminute is a very bukem vibe.. nice.. Strings and vocs work nicely. Love dogs on redbull…. also good name. reminds me of krust basslines from dope dragon… with new production. I imagine people will love this. Second track is the winner for me."
Ray Pocket Magazine (Germany) "Wow! This is nice. Love it":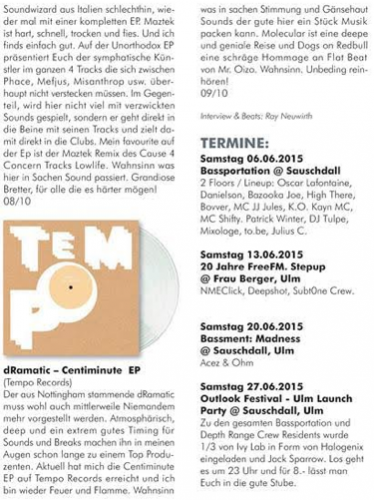 DJ Mag Italy: "7"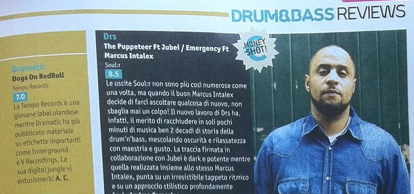 YouTube:
London Elektricity "Centiminute" featured in Hospital podcast 272) at 45:00min:

dRamatic "Dogs On Redbull" featured on Sun & Bass:


Podcast:
dRamatic "Centiminute" featured (intro track) in Soul Surfer's Berlin Bass Podcast (played by DJ Handy):


Tempo NL | Clone NL | All City Records Dublin Ireland | Amoeba USA | Bleep UK | Boomkat UK | Bounce Audio AUS | Decks DE | Deejay DE | Discogs Worldwide | Distortion NL | Doctor Vinyl Brussels BE | Eastern Block Records UK | Fenders DE | Hardwax DE | HHV DE | Idle Hands Records, Bristol UK | Inbound Records AUS | Intense Records UK | Jet Set Japan | Juno Records UK | Naminohana Records, Japan | Phonica Records UK | Play De Record, Toronto, Canada | Redeye UK | Roughtrade UK | Sisterray UK | Technique JP | Triple Vision NL | Underground Gallery JP | Unearthed Sounds UK | …
Buy Digital
Juno
…
Stream
Youtube

All content copywrite control Tempo Records 2015