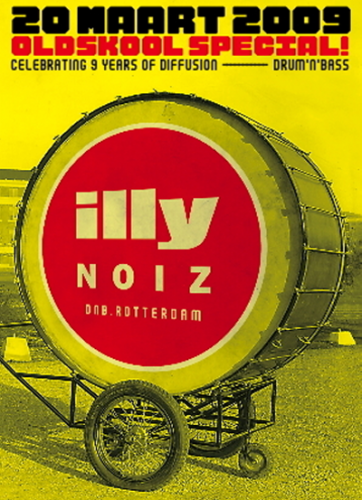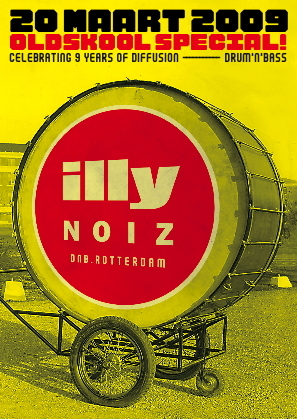 With great pride & honour we (Illynoiz & Diffusion) announce DJ Lee (Metalheadz, Atlas) for this special old school session and to celebrate Diffusion's 9Y anniversary!

Lee's involvement and history in the UK's underground dance scene dates way back to the late 80's.
Starting off as a resident at the legendary "Brunel Rooms" in Swindon, Lee played alongside DJ's such as Fabio, Grooverider and LTJ Bukem. His impression there was so great that other bookings began to roll in from all over the country.
In 1994 Danny Bukem alongside Leo Roche and Sarah Sandy (Groove Connection)started the groundbreaking night "Speed" at Soho's Mars club. Along with Fabio they started the first Drum n Bass night in Londons West End with a more mature
music policy. They needed a resident that would fit in with the futuristic sounds of Bukem and Fabio along with Doc Scott and Kemistry & Storm. Lee was made resident at what has become such a pivotal event In Drum N Bass history. Lee was also made resident at the legendary "MetalHeadz Sunday Sessions" at the now defunct Blue Note Club by Head Honcho Goldie as well as it's reincarnations across London's clubland and still plays for them to this day.
From here Lee went on to explore the european scene, being booked to play in Germany, Holland, Austria and Hungary to name a few followed by numerous tours in the USA, Japan, New Zealand & Australia.
As well as playing all over the globe Lee was also involved in the Timeless Recordings label, Vinyl Distribution and The Source club nights in Oxford,UK. In 2002 Lee then started a new imprint called Atlas Recordings, which has featured talented musicians from all over the globe, including Austrian D.Kay and Lee himself for Atlas 001.
Since then the duo have gone on to release tunes on Metalheadz,Hospital, 31 Records, C.I.A & Metro producing anthems such as Waxed, Desire,Tuning ,Manipulate The Universe & recently Extacy, December and the infamous Waxed V.I.P.
So for those that don't know Lee is famed for being continually upfront with his selection and innovation making him one of the most exciting & much sought after DJs and Producers on the circuit. Only for this special event Lee will play an all accross the board Rave / Breakbeat / Jungle / DNB selection!
Illynoiz residents Mack & Nubian and Diffusion residents Fusion & Denny D will play a special old school selection and also celebrate Diffusion's 9 years anniversary & (after that it will R.I.P.)! Lyrical support by Moshe & MC Dart!
Line-up (time schedule t.b.a.)
DJ Lee (Metalheadz, Atlas)
Fusion & Denny D (Tempo, Diffusion)
Mack & Nubian (Illynoiz)
General Info
Event: Illynoiz vs Diffusion The Old School Edition
Venue: Watt Basement | Kruiskade | Rotterdam
Address: The Watt is located in the centre of Rotterdam at the Kruiskade (only 3 minutes walk from the Central Station).
For a detailed route to the Watt check Watt Route