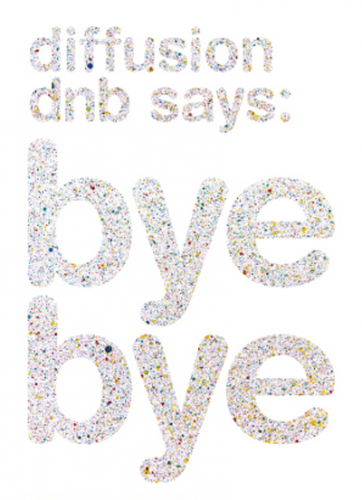 DIFFUSION R.I.P.
After nine years we have decided to pull the plug with Diffusion and refresh our concept with a new name: Tempo.
The Past:
In the year 2000 dj Fusion set up Diffusion wich derived from the lack of quality Drum and Bass events at the time. Diffusion is Hollands longest monthly DnB event and even today it's still going strong with diverse line-up's and special guests from Holland and abroad. Diffusion represents a mix of many Drum and Bass styles: Liquid Rollers, Hardstep, Intelligent, Neuro & Dub influenced rollers but Diffusion also likes to play the classic DNB, Jungle tracks from back in the day..
Here's a nice interview by a dutch dnb forum:
Diffusion Interview Dutch DNB Forum
or check the Hyves page:
Diffusion Hyves



This month a special edition due to Diffusion's 9Y anniversary (and also Diffusion's Pull The Plug / R.I.P. Edition)!
Line-up (time schedule t.b.a.)
2562 (A Made Up sound, Tectonic, Subsolo, Clone)
Proxima (Shogun Ltd, Frequency, Inneractive)
June Miller (Cylon, Inneractive, Connex)
El Maria & Mindmapper (Broken Audio, Crunch, Cylon, Connex)
Ldopa (Rawhide, Classic Jungle)
Mack & Nubian (Illynoiz)
Artist info
Kickmansch
Unannounced on the flyer but well known for his excellent mixing skills and diverse record collection, Sander 'Kickfrostman' will slowly turn the heat up with his foggy smoky dubstep beats.
2562
Dave Huismans is a producer who in the space of barely a couple of releases under the 2562 moniker for the Tectonic label has managed to make both the techno and dubstep communities sit up and take note. We are proud to have Dave come and perform a dj set including dubstep, techno & dnb. His recent remix for the Clone Records label is out this week: http://www.clone.nl/item14897.html to give a fine example to mix both techno influences & dubstep vibes in one track!
Proxima
Gijs Snik aka Proxima released a couple of strong 12″s such as the City Of Light ep with Clear For Launch and The Echelon Form (in co-op with Icicle). He's know for his minimal dub dnb tracks so expect some deepness from this talented dutch producer!
June Miller
After a few years working together with & playing in bands, Bart & Mark finally found and feel in love with the Drum and Bass vibes after Mark's move from the UK to NL.
During a few trips to parties in Utrecht in 2006 they where hooked and continued there search for bigger and better things. After the purchase of turntables and a few records they we rolling! In the quest to keep learning and delving, they found there two different styles but same direction kicked out some deep vibes from the studio. Still total novices to the game after only sitting behind logic from late 2007, there wiliness took off, taking on a fortnightly radio show with El Maria on jungletrain.net and being nominated for the best up & coming act @ the DNB Awards 2007. 2008 saw June Miller focus on there love of the music with a drive! Busy in the studio lead them to grabbing the attention of the artists they have followed from the start, like Loxy, Instra:mental, D.Bridge, Spirit, Bailey, Sabre, Gremlinz, Icicle, Nymfo and many more. A love for the deeper side and the versatility is always a big point for the guys as well what drum and bass is know for = deep rolling dancefloor music! A number of signings and playing over Europe, just pushes them on further into 2009. Also look out for a night June Miller run in Utrecht, Holland, with El Maria and Mindmapper called Connex.
Mindmapper & El Maria
Mindmapper is producer/dj from Eindhoven, the Netherlands. At the age of 16 he started working in a local bar and got in contact with the Redzone-crew (Martyn, Nymfo, Pressure and Jay) that had regular nights at this bar. This crew inspired him to start making drum&bass and get into dj-ing as well. He got to stick close to the redzone family (doing recordings and enjoying the many (pre)parties) for a couple years before the concept was ended in 2007 (but part of it lives on in the concept called ICON runned by mr Nymfo).
Mindmapper's "style" could be described as heartripping beats with bloodcurdling atmospheres. His productions nowadays get support from ones like: Verse, Loxy, Bailey, Jubei, Gremlinz, Nolige, Nymfo, Madvibes, Dymond, Empress (and many more…).
El Maria's key elements are deep dancefloor dnb rollers wich he loves and spread from his hometown Utrecht, The Netherlands. Former promoter of the now legendary Cultural Evolution parties alongside the Chillum & Multiplex MC, El stomped his name on his hometown Utrecht. Bringing the deeper side of Drum & Bass, at that time missing out in Utrecht, but also bringing that constant party vibe, the CE parties proved to be nights not to be missed each and every time.
In the present day, El is active first and foremost as a DJ, with a residency in Tivoli de Helling and gigs all over Holland and across Europe as well as hosting a bi-weekly radioshow alongside his comrads June Miller & Mindmapper on one of the biggest online radiostations for drum & bass, Jungletrain.net. El also promotes for the Utreg Massive collective, as well as promoting his own Connex nights in Club Poema alongside June Miller & Mindmapper. On top of this all El was nominated three times for the Dutch DNB Awards (including a nomination for best DJ in 2007).
Every now and then El also finds time to get into the studio with various co-producers, resulting in tunes that already have been picked up by names such as Loxy, Nymfo, Insight, Sabre, Double O & Mantra amongst others.
Ldopa
Amsterdam Pieter Kolijn made name together with other dnb/ jungle veteran Kaos back in the dayz…Nowaday's he's involved in the Rawhide events in club Paradiso and booked artist such as Calibre and many more to come. Expect some true warm liquid rollers!
Mack & Nubian
Rotterdam dnb veterans who need no further introduction, they came, they rocked and smashed every dancefloor!
Residents
Denny D, Noble, Fusion will bring there hotplates and warm and close this sweaty diverse night!
General Info
Event: Tempo
Time: 20.00-06.00 (c.e.t.)
Entrance: Free and after 00.00 eur 2
Venue: Bootlegdjcafe (Refreshed)!
Address: Mauritsweg 33, Rotterdam (only 5 minutes walk from the Central Station).
For a detailed route to the Bootleg check Bootlegdjcafe Route