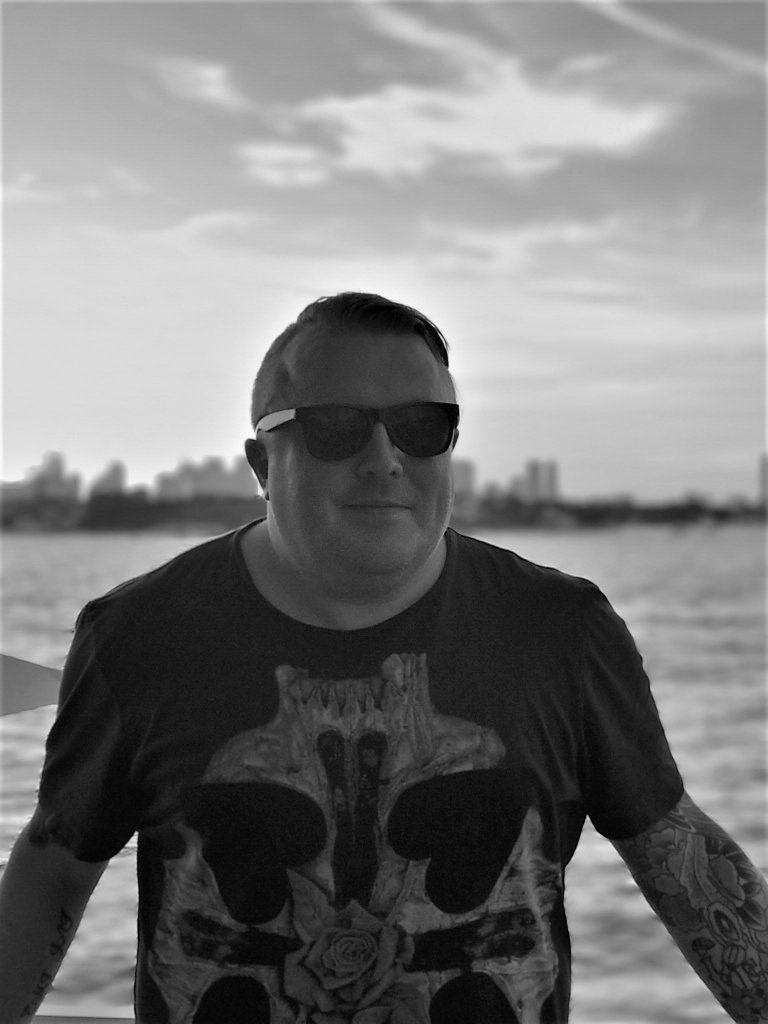 Go right back to rave's earliest days and you'll find DJ Trace.
A regular at the seminal churches of Rage and Telepathy, firing off big hardcore nuggets like Inception and Teach Me To Fly before he was 20, the Londoner named Duncan Hutchison then proceeded to work closely with two of the most influential jungle imprints of the time: Lucky Spin and No U-Turn where he and fellow pioneers such as Nico, Ed Rush and Fierce honed the essence of tech-step. He also released the massive Sonar on Grooverider's Prototype among many other era-defining cuts including his devilish Mutant series.
After a short move to America he returned and established his own influential imprint: DSCI4. One of the earliest labels to champion international talent he's responsible for early or debut releases from the likes of Black Sun Empire, Mindscape, Chris.SU, Task Horizon, Silent Witness, NC-17 and many more. He's also behind the more recent label 117, a rougher, more breakbeat based imprint that he set up during a darker chapter of his career.
Like any extensive tenure in the game Trace's trip hasn't been without its ups and downs. The earlier part of this decade in particular left him significantly jaded and frustrated with drum & bass and the direction certain aspects of it had taken. Once again relocated in America (Miami to be precise) he began to exorcise his angst in the only way he knew how; making sick mixes like his new Rollers Instinct series and knuckling down in the studio.
The results land today: the Zone EP, his first full EP release as DJ Trace since 2003. Four tracks of concentrated dark rollage, stripped back and just as inspired by his years lost in the minimal techno scene 10 years ago as they are his years rolling with the No U-Turn crew, cuts such as Aggy and Overdose instantly join the dots between his legacy and where he wants to be. This is how he got here…
You've been on this since day one. Take us right back to the start for a second. Inception days…
We need to go back further than that. I've been involved since 1988. Before then I'd been in school in Surrey but I came back to London and went to school there and I guess you'd say I fell into the wrong crowd. They introduced me to my first club. Heaven. There I was this pretty innocent kid listening to Depeche Mode, Human League and all that. They were like 'this is acid house' and they took me to Heaven where Fabio and Grooverider had their residency at Rage.
They corrupted you
I had no idea what I was heading into. I was 15 and it was pre summer of love. Lots of hip-hop and Italian house in the mix. I also started going to hip-hop nights at Wag club.
Do you identify as a b-boy? Jungle is UK b-boy culture…
Not really. It was pretty aggy back then. You could get robbed for your Air Max. But I did identify with the breaks. Public Enemy's Rebel Without A Pause was the first instrumental I ever heard and remembering hearing the break and thinking 'what is this?!' I was hooked. I started collecting hip-hop records just for the instrumentals and the breaks.
When did you start taking them to the studio?
I was feeling cheeky one night in Heaven. There was this record store in the club, Zoom Records. I said 'got a job? I want to learn to mix' They tried me out and gave me a gig selling records. That's how I got into it all and shortly after that I thought I'd hire a studio and go in with a load of samples, I had no idea what I was doing but knew it would be fun finding out. Long story short; that led to Inception, which was a mishmash of tunes I cut together. I pressed 1000 copies, sold the lot to the distributor and came home with a fat cheque. I was only 17. My mum was amazed. She was also an artist and was one of the original people that helped start up Covent Garden's famous Apple Market. She was shocked I'd made that money but also really proud.
I think that's why the scene thrived so much then. That type of instant return encourages creativity.
And you can go out as much as you like, too. Round this time Telepathy started. That was the most important night of all for me. Changed my life. Just a warehouse with massive stacks in all four corners. Rammed every week. The sound was massive. Everyone was on the love dove buzz and the DJs were so good. DJ Ron, DJ Rap, Phantasy, Ratpack, Jumping Jack Frost, Ray Keith. It was late 92 and things were starting to get darker.
Then everything started getting faster…
Totally. The Belgians were owning it back then. Frank De Wulf and Trigger especially. Those guys had the power and noises that inspired a lot of people to mix that sound with breakbeats. DJs like Bizzy B and Peshay stood out for me. Bukem too. One of the most leftfield rave DJs there was. You'd have all the anthem bashers then Danny would come and deep it out completely.
When did you find yourself behind the decks?
I'd played odd parties but my breakthrough moment was when I made a mixtape and sent it to a bunch of crews. The only ones who got back to me were the Rapido crew and I played in Oxford ice rink. That was my first proper gig in the UK in front of more than a few hundred people. Then my next gigs were in the US when I brought Ryme Tyme out to America in 93.
You and Ryme Tyme go way back, right?
Absolutely. A local friend had told Sean about me and he just turned up at my house unexpected one day. He said 'my mate told me you're a DJ'. I invited him in and jumped on the decks, he brought a mic with him and we literally just jammed out without knowing each other at all. We just bonded with the music. He's ended up being a lifelong friend.
And there you are going to the US together in 93. That's pretty early for US jungle envoy
Yeah it was. I met a guy at the bar in SW1 club and he was like 'I know your tunes I work in Tower Records in Philadelphia'. A few weeks later we randomly flew out and stayed out for a few weeks. There was this club in Allentown Pennsylvania. A disused warehouse called The Freight Yard. We played our UK stuff and people were loving it. But everyone else in America wasn't tuned into it. It seemed like that place in Allentown was the only place that got it.

The label Smile Communication got it. They released your West Coast Flavour tune a year or so later…
That Allentown rave lead to that actually! The promoter called a friend in New York and asked if we could play. It turned out to be at N.A.S.A in Shelter. A huge club and really influential in the house and techno scene there. It was mental. We came down and played this set pretty much all jungle, lots of dubplates. They'd never heard anything like it. It went off. Anyway, the owners were DB and Scotto. DB had a label called Smile and asked if I wanted to do a track for it. I thought no problem.
You were pretty much exclusive to Lucky Spin at that point…
Yeah that was the time. I was selling the records at the Lucky Spin shop during day, then I'd go round in the evening to see Pete [Parsons, production partner] and see if he wanted to make a tune. He always did! We churned out so many tunes at Lucky Spin. Just constantly on it. I was also working for Kool FM at the time.
You were pretty active on the pirates, right?
Radio was the most important thing for me and Ryme Tyme. Touchdown FM, Don FM then Kool FM. That was the biggest station I was on was and I was on there for three years and that meant the world to me. I loved that time. The whole period was just mental. I remember signing Babylon by Splash to Deejay Recordings and Music House was thriving. Dubplates everywhere. That was the social media in D&B. You'd have a laugh and hear this amazing music. Sometimes you'd have moments when someone would go 'no you can't have it, it's Rider only or Fabio only' and you'd really want it. It made it competitive.
You had to bring the tunes yourself!
You did! It was this mad trading arena. If you had a hot product you could pick up tunes off other producers. I remember rolling in with Mutant remix and everyone was like 'I need this!' I ended up cutting 15 plates that day.
Give me a dubplate memory….
I remember playing my remix of T Power's Mutant. A very well known artist was there saying 'what is this devil music?' I thought 'I don't want to get into this, but this is a tune mate, maybe you don't understand it, I don't even quite understand it yet, but you have to accept this is a tune' Everything was still very jungle and it was very different sounding. Groove, Andy, Randall they all wanted it. So I didn't let the devil music comment affect me.
But then not long after Kool FM changed my show. Me and Ryme Tyme were told my music wasn't right for the slot and they moved my show to a later shift. I have to say, that time on Kool was one of my favourites times in life. I loved what they were doing and I felt right in the heart of it. We were part of Super Sundays… Mampi & Navigator before us, Brockie & Det after us. It kept me sharp in the week and ensured I was on the hunt for the best dubplates. But the Mutant remix and the direction of the sound we were taking things didn't fit them.
Things were moving so quickly back then
Yeah they were. And the sound was very dividing at that time. Kool said they were a jump up station. They'd made their decision, I wasn't prepared to take the different slot so we parted ways. But that did affect me because I loved the show and station so much. Now I appreciate why they did it, but at the time I felt some people weren't moving with the music. I wasn't comfortable with how some people tried to preserve things and keep it as their own. Like the committee trying to shut General Levy down and things like that. I get trying to keep it underground, but that type of control doesn't sit well with me.
I heard about a committee trying to stop D&B from speeding up
That would have been the same one. There was only one committee as far as I knew. They were having meetings. Proper meetings and cups of tea. I found that strange. And that's when I went to America.
When was that?
From 96 to 99. It was just as Blue Note was kicking off and No U-Turn was kicking off with that Torque album. But I moved to Philadelphia with a masterplan of trying to bring modern tech-step to the US. I was playing quite a few events out there. But had I stayed during the No U-Turn peak what would I have done? Who knows?
But then not long after, relatively speaking, you set up DSCI4. Along with Subtitles I'd say that was one of the most important labels to sign and support international artists
That was all down to AIM and SKC. He was one of the first European guys I got speaking to on there and he introduced me to so many talented producers as well as being an incredible producer himself. I remember being online 24 / 7 round that point getting crazy music from Eastern Europe. I was hanging around with Fresh at the time and I went over one night with a bag of CDs and said 'you fancy listening to some of these demos?' I emptied the bag on the floor, we picked a random one and that was Black Sun Empire. Total lucky dip! Other people who sent me stuff were the Hungarian guys, Russian guys, Mindscape, Chris.SU and Sta & Paul B were instrumental in building DSCI4. Without those guys there wouldn't' have been a DSCI4. I look back over those days fondly.
It's mad your last release on the label was DSCI4 004, right?
There was Syntax on the 23° From Vertical album and Pete Parsons and I did some 2D33P bits much later on but yeah I did slow my own productions down and got into helping other artists, bringing new people through. The thing about me and production was that I'd write a tune that did well and then think 'how am I going to make a tune as big as Sonar?' I got myself into that mindset and thought maybe I should stop making tunes and focus on helping artists. So I did and still do.
It looked like you were going to shut down DSCI4 forever when you released the Final Chapter album.
I did for a few years. I'd had enough of the new neuro stuff that was coming out. No disrespect to anyone making it at the time but I wasn't feeling it. It was neuro and no funk whatsoever. I didn't want to take the label into that realm. The label had to be funky and deeper and a lot of neuro was a wall of noise.
There was a lot of chart chasing around that time, too…
That was killing me. Soulless noise or cheesy cheese. It was a low moment in music for me. As a reaction to that I started 117. The first releases were from DJ Future, Verb and Double O. We don't release often but when we do it's something I love. Pure quality control. But what was happening around that, in the wider sense of the genre, I really wasn't feeling it at all and to be honest I just felt like I'd been removed from the scene. I felt I'd lost my own identity for not putting in enough time and continuing to make records. You can't be that guy who made a good tune in 1998 can you? I had to get more stuff back out there and, well, it's unfinished business isn't it?
So you got back into the studio…
It's a very basic set up to call a studio! But it works for me. I bought a basic pair of monitors and a sound card and just dived back in. I was basically trying to channel my really negative energy into something positive.
Did it work straight away?
Not at first. I needed inspiration and I wasn't quite getting there. Then I thought about the Torque album on No U-Turn and that was fuelled by massive amounts of weed. Google the pictures of the studio, all the Bladerunner posters and neon lights. We were getting so high we thought we almost were in Bladerunner. That was the vibe. So I went down town and got some amazing oil and vaped it.
Did that hit the spot?
Yeah after a session or two it really did. The sound started to sound big and I focused my vibe on techno because that's been big for me, especially around 2006/7/8 I lost myself in the minimal techno scene and enjoyed being an anonymous raver. Long, rolling, nothing obvious. I wanted it to be as basic as strong as possible. Raw, stripped back, I wanted it to be modern tech step. When I played it to Spirit he said it sounded like modern No U-Turn. That meant everything to me.
Rooted in the past, looking into the future…
Yeah and it's always changing. For me right now I'm thinking as futuristic as possible but within the rolling style. I've been working with some really inspiring people like Damon Kid Drama. We've just done two tracks and they've got that 97 feel. Damon said he wanted to do No U-Turn tracks and we came up with a real vibe. But again, it's not just nostalgia, it's like No U-Turn but in 2018.
You sound inspired!
In a nutshell, when Spirit told me he played three of my tracks in his set it blew my mind. I was happy if he'd played one, let alone three. That meant a lot to me. If Spirit likes it, you know it's got something about it. He never played shit. Ever. I also have to big up Jubei, Scar, Kid Drama, Zero T, Genotype, Survey, Mark System, S.P.Y, Randall, Jaybee, Tactical Aspect and Tim Reaper (who also did the sick artwork on the new release) They have all been really supportive and welcoming. There's been some cool people motivating and inspiring me. And that's why I've now got about 20 tracks ready to go.
Boom. The punchline!
Yeah I've been making a few a week. You just said it; I do feel inspired. But how do I release them and where do I release them? Do I put them out myself or work with respected labels? That's all going to unfold in the new year, I'm still working it all out, but it's exciting.
I also have to say there'll be more events, too. Myself and Voytek, the man behind Brighton's infamous Carbon nights, did some really successful ones last year and found a great spot the Victoria pub in Dalston. It's like a classic English pub with a back room for music. We did two parties. Top Buzz were our headliners for the first one. That was good. Then the second one in with Peshay, DJ Lee, Loxy, Equinox and it sold out. It was wicked. I started thinking 'okay I love this, I want to do more'. So that's inspired me as well. But here I am in America and everything is happening in London.
Yeah this isn't the first time this has happened, too…
This is the second time I've come away when things are going well, yeah. But I'm only a nine hour flight away, the internet is a lot different to how it was last time I moved here and we'll see what the future holds. Right now, though, I'm happy making cups of tea, getting on the vape and getting back on the tunes again…
Get back in the zone again: DJ Trace – Zone EP is out on DSCI4, BUY HERE!.
Follow DJ Trace:
Soundcloud
Facebook
Twitter
Source: https://ukf.com/words/a-rare-audience-with-dj-trace/22971
Interviewer: Dave Jenkins, 12 October 2018.