DJ Trax | Attack Of The 50ft Amen | Tempo Records | Tempo1204 | ID1204
Out of stock
Tempo Records is proud to announce three brand new tracks by DJ Trax. He has been releasing records since 1991 on labels such as Moving Shadow, Goodlooking, and many more. As well as solo releases, he has recorded with Paradox under various aliases including Mixrace.
Tempo Records picked three of DJ Trax' latest creations, and since it's hard to describe them here's DJ Trax' own words: "The title track 'Attack Of The 50ft Amen' was inspired by 50s B-Movies, in particular Attack Of The 50ft Woman. Fifty Foot beats meet atmospheric drum and bass. 89 'Til Infinity is a reference to Souls Of Mischiefs – 93 'Til Infinity. That track really captured an era in hip hop which still continues to influence the scene and will do for many years to come. I wanted to do similar but to capture the Detroit type sounds of 1989. Finally Bring It Back is a nod back to the mid 90's. In particular nights like Speed down at the Mars Bar. It also shows how my love of Funk and Soul influences my music."
All tracks mastered by Stuart Hawkes at Metropolis, London. This release includes a mp3 download voucher, comes as a limited 140 gramms clear vinyl pressing with full artwork sleeve, including one yellow *poster/inlay. When buying this from T3MPO.com you get a free Tempo logo sticker (untill stock lasts).
A. Attack Of The 50ft Amen

AA1. 89 'Til Infinity

AA2. Bring It Back

*poster artwork inspired DJ Trax to write the title track: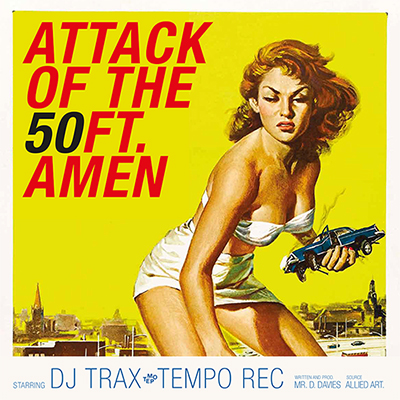 DJ Trax Attack Of The 50ft Amen EP from Divert on Vimeo.