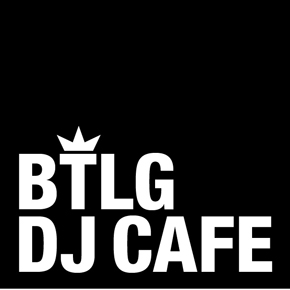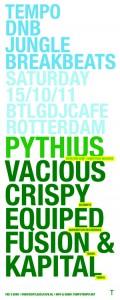 Brand New Tempo Event!
This time we invited dutch producer Pythius from Utrecht (Rotation Deep, Mindtrick Records) playing his latest productions, Vacious playing deep beats and also his very own & brand new "Nine Years" track (wich got airplay by Nihal on BBC Radio 1), Vacious originated from Bristol (but now lives between Rotterdam and India) and can be considered a serious "name" to watch out for in the near future, Kapital's friend Equiped (Ammunition Rec) rolling some fresh beats, Rotterdam fastest rising dj Crispy (from the Blendits crew) bringing his liquid vibes and last but not least Tempo's very own Kapital & Fusion.
Expect some fresh drum and bass!
Sounds:
Vacious "Nine Years" (first track on Nihals BBC Radioshow)
Pythius "Trauma"
General info:
Showtime: 22.00-06.00
Venue: Mauritsweg 33, Rotterdam Bootlegdjcafe
Social: Facebook | Twitter