Tempo was set up by DJ Fusion in 2007 as a meeting point for like minded Drum and Bass | Jungle record collectors & DnB fans. Tempo implies the record label, events, community, dj Fusion and the online recordshop. We specialize in finding interesting news features (see community page) and hard to find aestatic Drum and Bass & Jungle records. Share your wantlist with us as we might be able to help you out!
FOR GENERAL INQUIRIES CLICK HERE


……………………………………………………………………………………………….

If you need any Tempo related info regarding interviews, reviews, special press pictures, logo's, text etc please use the customized presskit and for any further inquiries on bookings, workshops etc.


……………………………………………………………………………………………….

FOR PRESSKIT REQUEST CLICK HERE!
Complete presskit will be uploaded asap.
In the meantime pls use these pictures & logo's:
*


Or Use Hyperlinks:
https://t3mpo.com/wp-content/uploads/2011/05/tempo-logo1.png
https://t3mpo.com/wp-content/uploads/2011/05/t-logo.png
https://t3mpo.com/wp-content/uploads/2009/09/tempo_big_t_logo.jpg
https://t3mpo.com/wp-content/uploads/2010/02/logo-tempo-2-small2.jpg

*


Or Use Hyperlink:
https://t3mpo.com/wp-content/uploads/2010/03/fusion-logo.jpg
https://t3mpo.com/wp-content/uploads/2010/03/f-fusion-logo.jpg

*All Pictures & Logo's & Text (c) Tempo 2007.


……………………………………………………………………………………………….
Drumandbass.nl Interviews Tempo
They recently asked us some questions regarding Tempo so check it out: Tempo Interview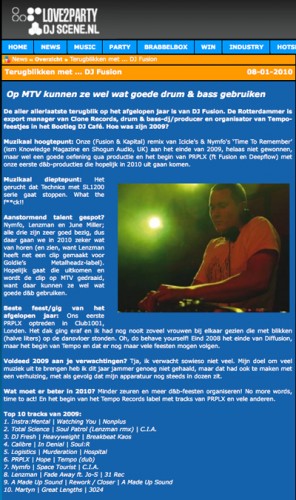 Post Your Comment Here!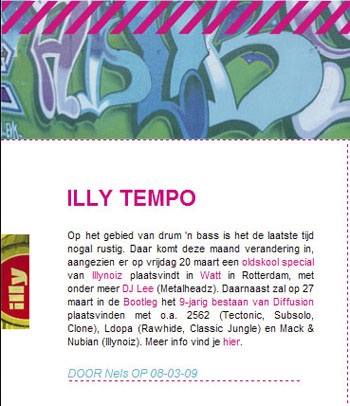 Words by Nels. For more haute culture check here!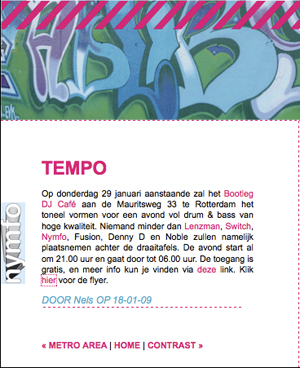 Words by Nels. For more haute culture check here!



Diffusion Interview Dutch DNB Forum click here!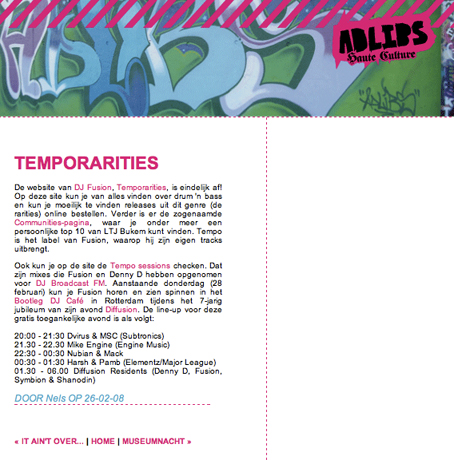 Words by Nels. For more haute culture check here!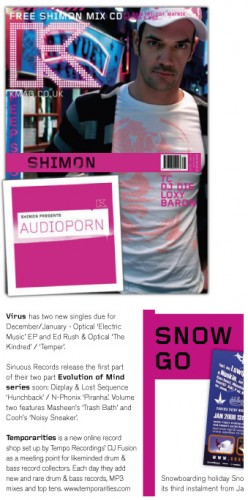 Fusion & Denny D will perform a dj set on friday May 23rd 2008
for Knowledge at Bar 1001, London, UK.



……………………………………………………………………………………………….
DJBroadcast Magazine: Drum 'n Bass hoofdmoot op tempotempo.net
Het heeft even geduurd maar wat goed is komt niet altijd snel. Na een jaar zwoegen en zweten is onlangs de nieuwe website van Drum 'n Bass addict Frodo van Steijn online gegaan. Tempotempo.net is er voor liefhebbers van ritmisch slagwerk en lage tonen, oftewel Drum 'n Bass. De site behuisd een online platenzaak, het label Tempo Recordings en je kan er terecht voor een paar niet te versmaden Drum 'n Bass setjes.
Frodo is al jaren een bekend gezicht in de Nederlandse Drum 'n Bass scene onder zijn dj naam Fusion. "Het heeft een behoorlijke tijd geduurd voor de site online kon maar nu is het eindelijk zo ver. In de webshop zijn voornamelijk moeilijk verkrijgbare vinyl's te vinden. Ik heb door de jaren heen een flinke collectie bij elkaar gespaard en alles wat ik dubbel heb kun je terug vinden op de site." Tempo valt op door eenvoud is overzichtelijk, iets wat bij veel online winkels nog weleens een probleem is. Een simpele interface met categorieën als fresh arrivals, full catalogue en classics, duidelijker kan het niet. Onder het kopje label zijn de toekomstplannen van Frodo en de zijnen terug te vinden. "In januari komt de eerste release op Tempo Recordings uit, een samenwerking tussen Deepflow en mij." Ook vind je op de Community pagina veel nieuws over bekende dj's/ producers met Top10's, profiles en dj mixen.
Drum 'n Bass op het REMF
Volgens Fusion gebeurd er nog voldoende op het gebied van Drum 'n Bass in Nederland."Hoewel niet alles even goed bezocht wordt worden er nog steeds veel feesten gegeven waar Drum 'n Bass en Jungle wordt gedraaid. Op het aankomende REMF festival kun je Fusion en co vinden in het Bootleg DJ café in Rotterdam. Op donderdag 29 november vindt hier Diffusion plaats met special Guests: Drum Origins, MSC & Dvirus, Etnik, Syze, Pressure en de residents Fusion, Denny D, Symbion en Shanodin.


……………………………………………………………………………………………….
3voor12 Rebelbass weblog
Voor de Drum 'n' Bass (lief)hebbert is er sinds kort de online Vintage drum 'n' bass specialist Tempo, een initiatief van de Rotterdamse DJ Fusion. Naast nieuwe d&b releases (op o.a. het eigen huislabel Tempo) loop je hier dik kans dat je die ene gezochte klassieker nog eens tegenkomt. Je kunt er ook verschillende d&b mixen beluisteren en alle nieuwtjes op drum 'n' bass gebied lezen. Lady Aida Website!



……………………………………………………………………………………………….
Interview Knowledge Magazine Temporarities
Tempo Recordings is a brand new drum & bass label, established by Dutch DJ and producer DJ Fusion. Frontlines caught up with Fusion to get the low down. DJ Fusion has been involved in the Dutch electronic music scene since the early 90s. In 1993 he started the first full Jungle/D'nB event in the Eastern part of Holland, and soon after he was asked to be the resident of the legendary Dutch club Atak, an eclectic dance temple where he played for more than 5 years. He began by telling us about the Dutch d&b scene. "We have a healthy scene at the moment, all d&b styles are represented throughout Holland." Fusion told Frontlines. "You have a few major d&b parties and of course a whole lot of small venues in every major Dutch city, which was not a common thing back in the day. We previously had to travel a few hours to listen to our favourite DJs!"
The new label, Tempo Recordings will be releasing on both vinyl and digital formats, and will have an open music policy. "As a DJ I like to play various d&b styles and I see my label as the same, as long as it reaches to my high standards of quality above quantity with all the right ingredients!" He explained. "We currently have two artists Fusion and Deepflow, but there are so many good producers nowadays that it will not take long to include some more artist to the roster. We also try to build the artist profile by giving them the space to develop their own unique style."
The first release on Tempo will be the 'Depth Charge' EP from Fusion & Deepflow, which will be in the shops in December. "The first 12" covers the whole spectrum of d&b, it has its deepness from early intelligent d&b and a sort of old skool US techno/house vibe too. We have also added a small phrase from Robert Moog, so you can see it as an tribute to his great Moog synthesizer invention."
Following that, Fusion plans to release some new remixes of 'Depth Charge' by some well-known producers. His future aims are to cover all bases with the Tempo brand. "We see it as our duty to bring out great and original music without "re-inventing the wheel!" We will start with a new d&b night Tempo, so every aspect will be covered Tempo: the label, radio, night, shop, but mainly we set the pace!"
The newly launched Tempo Sessions radio show online also gives Fusion an opportunity to explore the different sounds of drum & bass. "Together with Dutch DJ Denny D we started a radio show on DJBroadcast.fm as an outlet for the many styles d&b has today. Also we still like to play what we think are the d&b classics, because otherwise people will forget where it all started, we see this as a sort of hommage to our pioneers. Hopefully we will soon have some new mixes from other DJ's as well." DJ Fusion plays on December 2006 for Knowledge Magazine in Club 1001, London (UK).
Interview in: Knowledge Magazine | K86 Ed Rush & Optical Cover| Interview by: Darren Jones




……………………………………………………………………………………………….
Interview | Dutch Kanaal 0 Magazine | Rotterdam Drum and Bass Special
Diffusion bestaat uit..en wie doet wat?
Frodo a.k.a dj Fusion, geboren in 1974, draait sinds 1993, is verantwoordelijk voor meerdere taken bij Diffusion, hij is bezig zijn eigen label op te zetten genaamd Tempo Records en heeft samen met Deepflow net zijn eerste nummer afgemixt. Ook heeft hij samen met Denny D een radio programma Tempo Sessions op DJBroadcast.fm iedere woensdag van 21.00-23.00
*Elry Smits, dj a.k.a. Elry, 33 jaar, houdt zich naast de draaitafels ook met het grafische aspect van Diffusion bezig.
Dennis Verschoor a.k.a. Denny D, 31 jaar, draait al een tijdje mee, al zo'n twaalf jaar welteverstaan en is full time dj/producer. Rens de Nobel, oftewel dj Symbion, 25 jaar. (ten tijde van dit interview op vakantie). *Elry is tegenwoordig niet langer lid van Diffusion, tevens is Shanodin (Engine Music) er bij gekomen als vast Diffusion resident.
Het begin?
Frodo: "Diffusion is opgericht in Februari 2001. We waren natuurlijk al veel eerder met muziek bezig, maar toen is Diffusion ontstaan. We kennen elkaar al een tijdje. Niets ingewikkelds trouwens, je organiseert een avond, nodigt veel mensen uit en kijkt wie er op af komt".
Diffusion staat voor..?
Frodo: "Diffusion staat voor een mix van stijlen. Toen we begonnen met Drum 'n Bass werd er nog afwisselend gedraaid, bestonden er nog niet zoveel subgenres. Nu heb je veel avonden waarop maar een stijl en te snelle d'n'b wordt gedraaid. Wij willen breed draaien op onze avonden, van oude Jungle tot de nieuwste tracks".
Dennis: "Niks mis met snelle Drum 'n Bass hoor, maar het wordt soms te vierkant. In het begin zat er veel meer Soul in d'n'b. Ook lijkt het een formule geworden en dat willen we vermeiden". Frodo: "D'n'b is nu soms een beetje te techy".
Diffusion is nu?
Frodo: "We hebben al geruime tijd onze eigen avond in het Bootlegdjcafe, iedere laatste donderdag van de maand. We nodigen vaak special guests uit, mensen die we goed vinden, om met ons mee te draaien. Ook hebben we al edities in bijvoorbeeld de Bazart (Den Haag) en Doornroosje (Nijmegen) gehad. Los draaien we ook overal".
Rotterdams glorie?
Frodo: "Er is veel d'n'b in Rotterdam, maar we zijn allemaal anders. Op Prospect komt mer de tech stijl naar voren, wij zijn meer divers en laten d'n'b in de breedste zin voorbij komen". Elry: "Je hebt veel afsplitsingen in de scene. Zij (PRSPCT) zijn hun eigen subgenre". Frodo: "Je moet er natuurlijk wel rekening mee houden. Twee feesten op een avond heeft geen zin".
Hoogtepunten tot nu toe?
Dennis: "Voor mij toch wel het draaien op Lowlands, toen was ik nog een pikkie en dan in zo'n grote tent staan, is echt tof". Elry: "Alle mensen die je ontmoet". Frodo: "Optredens voor andere d'n'b organisaties en natuurlijk in het buitenland draaien".
Toekomstmuziek?
Frodo: "We zijn bezig om onze radioshow flink op de d'n'b map te zetten. Verder ben ik mijn label aan het opzetten en brengen we (Deepflow en ik) onze eerste plaat uit op het Tempo Records label". Dennis: "Plaat uitbrengen". Frodo: "En verder druk met het organiseren en de Tempo site is binnenkort af. Als je iets leuk vindt doe je het niet om groot te worden, je wilt gewoon je eigen stempel erop drukken! Binnenkort staat mijn nieuwe site www.tempotempo.net online, met o.a. info over het label, radio, shop en vele d'n'b gerelateerde onderwerpen! En op 22 december draai ik in bar 1001 in Londen".
Interview in: Kanaal-0 | Issue no.2 | Rotterdam Drum and Bass Special: Diffusion | Interview by: Iris Ufen & Gemma Barendse


*All Logo's & Text (c) Tempo 2007.


……………………………………………………………………………………………….
Return to shop