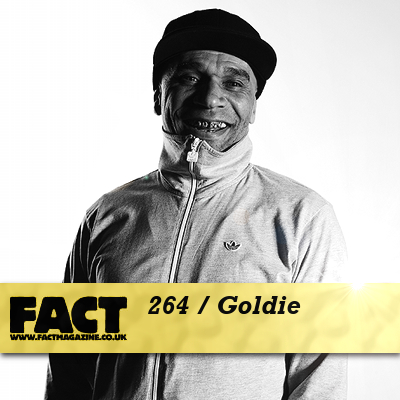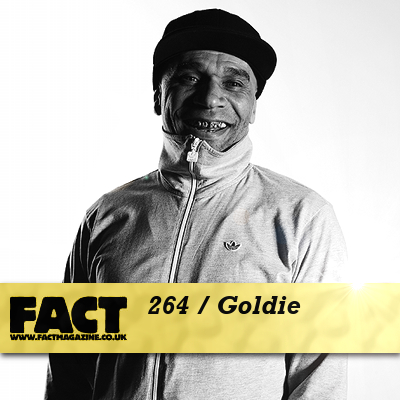 Where do you start with an artist like Goldie?
Perhaps it's best to start with the title of his greatest album, Timeless. An all-time classic, not just of jungle or drum'n'bass but of dance music in general, its title describes its creator like few other words could.
Everything about Goldie, you see – his role as leader of the Metalheadz label and club night, his acting appearances in James Bond films, British soaps and more, his B-boy and graffiti background, his design work, Maestro, his smile, the fact that only yesterday he was lording it up with Prince Harry at the Silverstone Grand Prix – is timeless and iconic. He might have spent the last two decades as a hero to millions of kids, but guess what, your mother loves him too, and that's what makes him so special. It's not every day that someone reinvents an underground dance genre but also works with David Bowie and Noel Gallagher.
This Summer, he'll contribute the latest mix CD to Fabric's Fabriclive series, a mix he describes with typical ludicity: "I'm not claiming to be the best technical DJ, I never have done. For me, I try to get the alchemy right, which I've done on this mix: each of these are standalone tunes… When I think of the D&B tunes on this mix, I think of them as spiritual euphoria, like I've been lifted out of something."
To celebrate his Fabric CD, Goldie's also contributed an old school session to FACT's mix series, featuring a number of early Rufige Kru productions. According to his management, "he got into the studio and found some old records, and got inspired to do an all '90s mix. It's all pre-94 hardcore/jungle. 75% of the tunes are his". Really, who are we to argue?
Listen to Goldie's mix for Fact Magazine via Soundcloud
Tracklist:
01. Euphony (Just For You London Kuff Mix) – Bodysnatch
02. Let's Get Together – Satin Storm
03. LFO – LFO
04. Energy Flash – Joey Beltram
05. Voodoo Ray – A Guy Called Gerald
06. Krisp Biscuit – Rufige Kru
07. In My Soul – Internal Affairs
08. Killa Muffin – Rufige Kru
09. Find A Way – Internal Affairs
10. Menace – Rufige Kru
11. You Held My Hand (Mark Mac & Goldie Remix) – Manix & Rufige Kru
12. Del De Go Go – Tek 9 & Rufige Kru
13. Shinin' Down On Me – Internal Affairs
14. Rollin Like Scottie – Rufige Kru & Agzilla De Ice
15. Rage – Doc Scott
16. I Think I'm Going Out Of My Head – Satin Storm